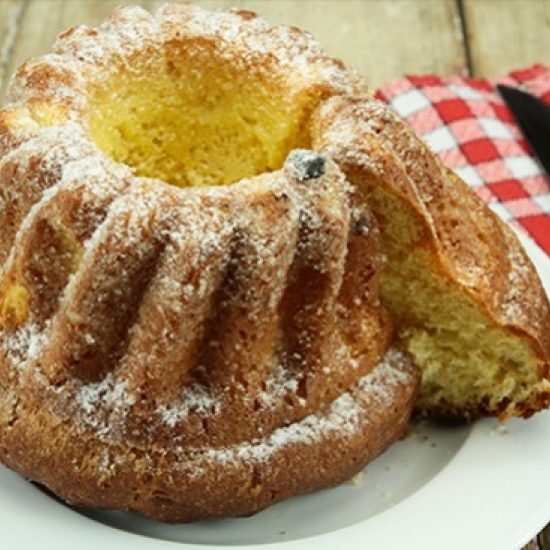 Gourmet Kouglof with Rinquin
Preparation time: 20 minutes | Cooking time: 45 minutes | Resting time: 3h30
Ingredients :
70 g Smyrna raisins
40 g dried apricots
5 cl of Rinquinquin
180 gr of flour + 35 gr for the leaven
20 gr fresh baker's yeast
160 gr butter + 20 gr for the mould
1,5 mocha spoon of salt
12,5 gr of caster sugar
2 large eggs (125 gr)
1 egg for gilding (50 gr)
10 whole almonds, blanched
Preparation :
Rinse the grapes and apricots, place them in a bowl. Cover with 5 cl of RinQuin. Let them swell for 1 hour.
In a bowl, prepare the leaven by mixing with a spatula 35 gr of flour, 60 gr of water and the fresh yeast until you get a homogeneous dough. Cover with a cloth and let rest for 1h30 in a temperate place.
Put the butter, salt, caster sugar, 60 g of flour and the yeast in a bowl. Beat the whole eggs and add half of them. Mix with a spatula, then add the second half of eggs and 60 gr of additional flour. Mix again.
Then add the rest of the eggs and the flour little by little. Finally, add the raisins and the diced dried apricots. Mix gently.
Butter the kouglof mold, stick the almonds to the bottom with the butter, pour the dough into the mold. Set aside for 2 or 3 hours in a temperate place covered with a cloth.
After the resting time, the dough should have swollen to the edge of the mold, gild the surface with beaten egg.
Preheat the oven to 180°C (Th 6) for 10 minutes.
Place in the oven, lower the temperature of the mold to 150°C (Th 5) and bake for 45 minutes.
Turn out the kouglof when you take it out of the oven.
@ Photo credit: Adobe Stock - ALF photo
Related products

15° - 75 cl
RinQuinQuin is a white wine-based apéritif, with peaches, leaves of peach trees picked in autumn,  sugar and  alcohol.