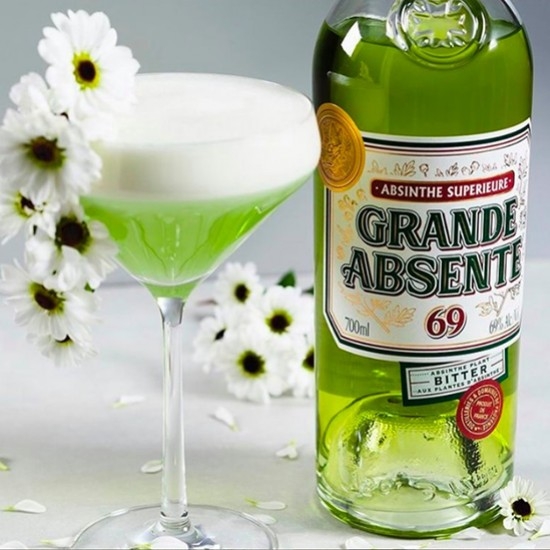 "Green Fog" by @the.sauceress
Ingredients:
1 oz Grande Absente
1 oz Lime
1 oz Lime Juice
2 ounces Sweetened Granny Smith Apple Juice
4 Dashes Apple Blossom Bitters
Egg white 
Method:
Chill your shaker.
Combine all ingredients except soda in shaker. Dry shake first (I recommend adding a whisking ball).
Shake ! Remove the ball if used and shake again with one large piece of ice.
Strain into a glass.

Sweetened Apple Juice:
Core and quarter one Granny Smith apple. Leave skin on. Blend until liquified with 4 oz of simple syrup and a squeeze or two of lime juice. Strain using cheesecloth or a nut milk bag. Bottle and refrigerate, should keep for about a week.
© photo: @the.sauceress
Related products

Grande Absente 69, absinth
69° - 70cl
The very authentic absinthe: Grande Absente is a bitter liqueur which contains more plants of absinthe and less sugar.