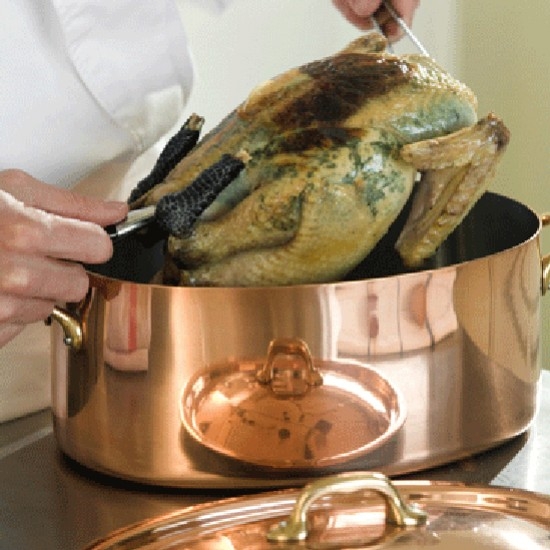 Guinea Fowl Stuffed With Nuts
Ingredients
For 4 people

•    One 1.2 kg farm-grown guinea fowl
•    100 g of Bayonne ham
•    50 g of walnut halves
•    1 orange
•    1 shallot
•    4 sprigs of parsley
•    1 egg
•    40 g of butter
•    2 tablespoons of crème fraiche
•    1 bowl of breadcrumbs
•    15 cl of chicken bouillon cube
•    8 cl of NOIX DE LA ST JEAN WINE
•    Salt, pepper.
Preparation
Preparation: 25 mins.
Cooking Time 50 mins.
Preheat oven to 210°C (thermostat 7), soak breadcrumbs in 3 cl of NOIX de la ST JEAN WINE
Mix the minced shallot dry with the chopped ham, add the cut parsley, the breadcrumbs, the crème fraîche, the egg, a little of the grated orange zest, and 20 chopped walnut halves, add pepper, do not add salt due to the ham, mix thoroughly. Stuff it into the belly of the guinea fowl, close the opening with picks, tie with string. Place the salted guinea flow on a roasting dish with 20 g of butter.
Cook in the oven for 45 min., sprinkling it from time to time with bouillon, mixed with the rest of the NOIX DE LA ST JEAN
Place the guinea fowl aside. Add the orange juice to the cooking juice, then place it in a casserole. Bring to a boil with 20 g of butter. Add the rest of the nut halves, check the seasoning. S
Serve with the guinea fowl cut into pieces.
© photo : @Lumières
Related products

75 cl - 15°

Hand crushed Dauphiné green walnuts, harvested at Saint-Jean, muscade and cinnamon lend this aperitif its spicy and fruity flavours.