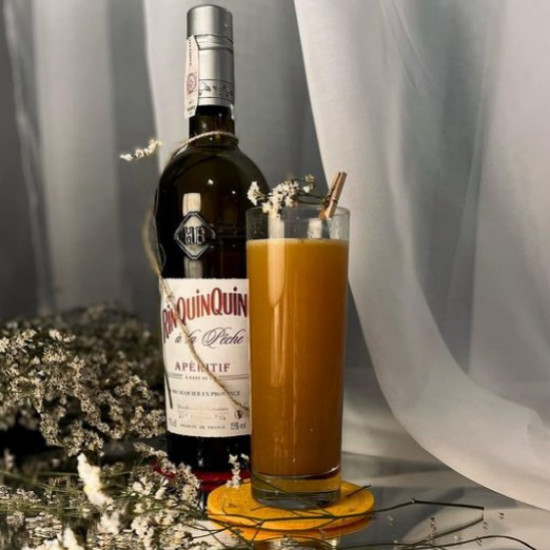 Honey Boo by Gaja Jablonska
Ingredients:
4 cl RinQuinQuin
2 cl homemade lavender vegan honey 1:1 syrup
2 cl lemon juice
Some Vermouth de Forcalquier
Top up with homemade lemon verbena soda


Vegan lavender honey syrup:
0,7 l fresh pressed apple juice
300 g sugar cane
One chamomile tea bag
10 g jasmine tea
20 g dried lavender flowers
4 cl lemon juice
Boil all the ingredients together with only half of the lavender, take out the chamomile after around 15 minutes of boiling, reduce the liquid to honey similar consistency and after it's chilled infuse with the 10 g rest of lavender.
For the syrup: blend one part honey with one part water.


Lemon verbena soda : 
20 g blend of dried lemon verbena, lemon grass and ginger (3:2:1 proportion)
1l boiling water
Brew the blend with 1l of boiling water, fine strain when completely chilled and gas with CO2.


Method:
All the ingredients are shaken and fine strained onto fresh ice, topped with soda. 
Spray the glass and top of the cocktail with some Vermouth de Forcalquier in order to sharpen its herbal notes.



© recipe and pics : Gaja Jablonska Bartender, winston_bar_gdansk
Related products

15° - 75 cl
RinQuinQuin is a white wine-based apéritif, with peaches, leaves of peach trees picked in autumn,  sugar and  alcohol.

75 cl - 18°
Vermouth de Forcalquier is an aromatized wine made with absinthe and vivacious, bitter plants and spices (lemon balm, mint, mugwort, green aniseed, cinnamon, coriander and pink peppercorns).
Vermouth de Forcalquier is a full-flavoured aperitif in a superb vintage style bottle.