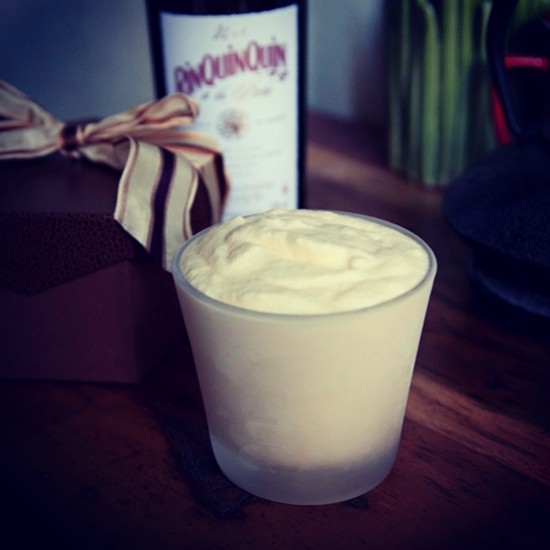 Icy soufflé with Rinquinquin
For 4 servings
Ingredients :
400 ml whole cream
3 eggs
40g sugar + 5 to 10g sugar
1 can of peach in syrup
4 tbsp Rinquinquin
Preparation:
1.Prepare the peaches: take three pieces of peach in syrup, mix them and put them to macerate in the Rinquinquin. Set aside.
2.Sugar syrup: Bring to a boil 40g of sugar in 50ml of syrup from the peaches. Set aside.
3.Whip the cream until firm.
4.To whisk firm egg whites, use the egg foaming method, meaning, add 5 to 10g of sugar at the very beginning of the whisking process on a medium speed. Then switch to a higher speed until obtaining stiff peaks egg whites. Delicately introduce them to the whipped cream with a spatula.
5.Beat the yolks while adding the hot sugar syrup. Keep on whisking the preparation until entirely cooled. Then add the whipped cream mix and the peach Rinquinquin mix. Set aside.
6.Pour the preparation in serving pan or glasses and place in the freezer for at least 3 hours. Place in the fridge 1 hour before serving.
© picture: Bambule Medias
Related products

15° - 75 cl
RinQuinQuin is a white wine-based apéritif, with peaches, leaves of peach trees picked in autumn,  sugar and  alcohol.