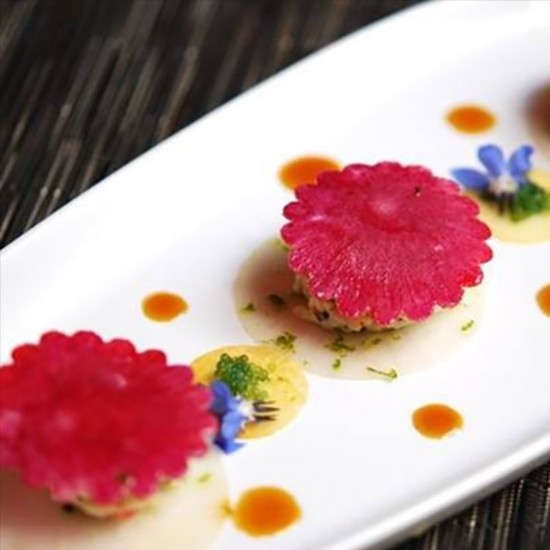 King Crab, Daikon, pastis Henri Bardouin Recipe by Laurent André
For 4 people
Ingredients
300g of King crab
1 radish red meat or "daikon"
1 turnip golden ball
1 turnip ball
1 lime
20cl of pastis Henri Bardouin
100 g of sugar
80 cl of water
16 sheets of gelatin
150 g of sugar
20 cl of orange juice
Preparation
Heat the water and sugar until boiling, then add the Henri Bardouin pastis and the gelatin leaves.
Out of the heat, grate the lime then pour the jelly on a tray with a cookie cutter.
Filmer and let take in the fridge.
Cut the turnips very finely and portion them with a cookie cutter. Cut the radish red meat very finely and then detail with a cookie cutter.
Make the citrus caramel. Heat the sugar until brown and deglaze with orange juice.
Season King crab with mayonnaise, lime grated, green Tabasco and citrus caramel.
Season with salt and salt.
Arrange three turnips on the plate while leaving 2 cm between each.
Arrange King crab on turnips, then jelly, and finally add radish red meat.
Arrange the golden ball turnips on the plate, cut smaller.
Make citrus caramel tips all over the plate.
Recipe by Laurent André, Executive Chef of Royal Monceau Raffles - Paris
© Photo : Royal Monceau Raffles
Related products
70 cl - 45°
Pastis with a unique character: mixed from more than 65 plants and spices, it is powerful and aromatic on the palate.
Only available in France