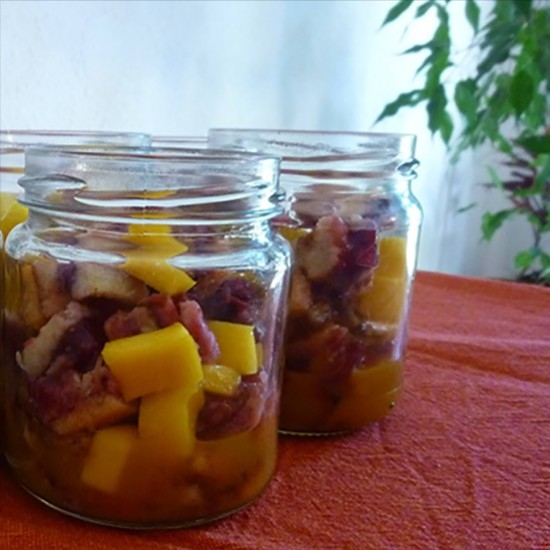 Kosmik way Jean-Claude Michalak with peach and RinQuinQuin par @ Pepitesandc
Ingredients
Spoon biscuits
50 cl of almond milk
2 gr agar-agar
2 vine peaches
15 cl of RinQuinQuin
1 mango
1 lemon
Preparation
Mango coulis: mix the mango with ½ lemon juice, add if necessary a spoonful of water and sugar.
Warm up the almond milk, add the agar-agar, bring to a boil, reserve in the refrigerator.
Soak the biscuits in the spoon with the cooled almond cream.
Cut the vine peaches, add the RinQuinQuin and let macerate 1 hour in the fridge.
Dressing: in a verrine, add the mango coulis, the biscuits with the spoon and the peaches
Related products

15° - 75 cl
RinQuinQuin is a white wine-based apéritif, with peaches, leaves of peach trees picked in autumn,  sugar and  alcohol.