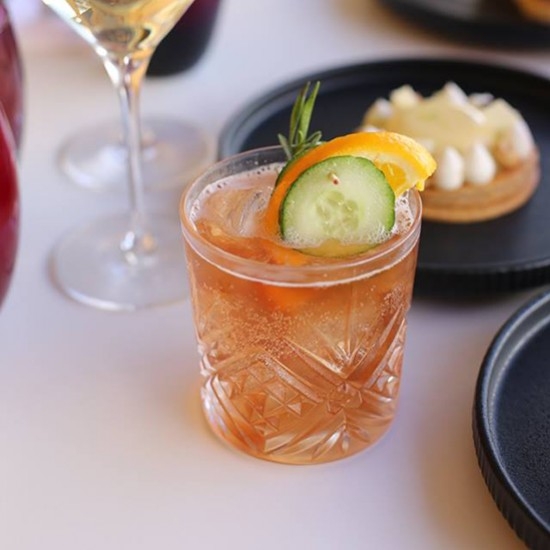 Le parfum d'une femme @ Baptiste Letourneur, Bartender at Molitor - Paris
Ingredients:
• 2.5 cl of Mare Gin 
• 0.8 cl Saint-Germain liqueur 
• 0.6 cl of Farigoule
• 0.5 cl of Peter Heering
• 0.5 cl of Martini Bitter Key
• 0.5 cl of Chambord 
• 0.2 cl of amaretto liqueur 
• 0.5 cl of "Gentiane de Lure"
• 1 Bitter Peach Dash
Method:
Put the ice cubes in the mixing glass, add the ingredients and stir quickly.Then serve in a glass with ice cubes and a cucumber puck.
Credits:
Bar: Molitor @mltrparis
Bartender: Baptiste Letourneur
Photo: Fanny Flory
Related products

Farigoule of Forcalquier, thyme liqueur
50 cl - 40°

This liqueur, characteristic of Haute Provence, is produced with wild thyme, a rustic and rebellious plant, harvested at the beginning of springtime, a time when our whole region is scented by this "simple"perfume. This characteristic digestif is testament to time-old tradition and regional soils, thanks ti its delightful garrigue perfume!

75 cl - 16°
Gentian roots, infused directly after harvest, result in the refined bitterness, so appreciated by enthusiasts, and the tonic properties of this drink that open up the appetite.