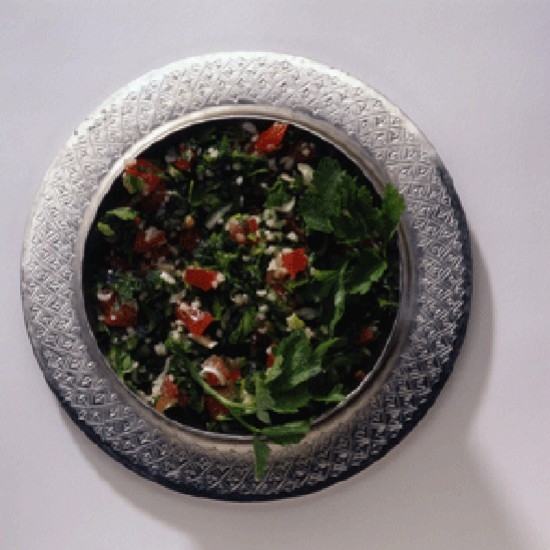 Lebanese Taboule
Ingredients
Serves 4

•    ½ glass of bulgur (crushed wheat, fine quality), washed and drained
•    2 glasses of finely chopped parsley
•    500 g of tomatoes, washed and finely chopped
•    ½ glass of finely chopped mint leaves
•    2 medium onions peeled and finely chopped
•    ½ glass of lemon juice
•    ½ glass of olive oil
•    ½ teaspoon of salt (to taste)
•    1 pinch of 4 spices.
Preparation

Recipe from the FAKHIR EL DINE restaurant – 30 rue de Longchamp – 75016 PARIS – tel: 01 47 27 90 00 – owners: Diana and Sliman Abou Antoun.
Wash the chopped parsley and mint. Let it drain in a colander. Soak the bulgur 20 minutes in the chopped tomatoes. Sprinkle the onion with salt and spices. Mix for a long time with the chopped vegetables, olive oil and lemon juice.
Serve the salad immediately with romaine lettuce or cabbage leaves.
Served with Pastis HB glass!
Related products

70 cl - 45°
Pastis with a unique character: mixed from more than 65 plants and spices, it is powerful and aromatic on the palate.