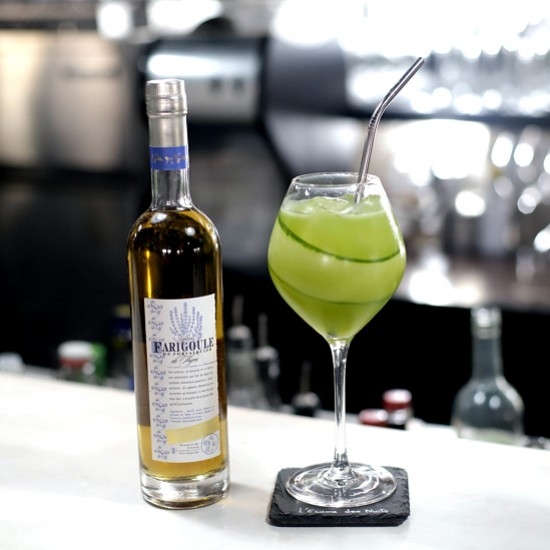 L'Écume des Nuits @ Nicolas Maria, bartender, Mary Lili , La Rochelle
Ingredients:
3 cl of Gin
2 cl of Farigoule
2 cl of rose syrup
2 cl of lime juice
6 cl of cucumber juice
Top London Essence Tonic Water
Preparation:
Made directly by mixing glass. Stir in Monin rose syrup, lime juice to rinse syrup jigger, add cucumber juice (made to juice extractor), Farigoule, Gin Ginetic Rosé, ice and mix together ingredients with a spoon to start the wedding.
Last step of the recipe, top the cocktail with Tonic Water and place a thin slice of cucumber for decoration.
Verbatim Nicolas Maria
"The idea is that we feel the sweetness of the Mediterranean summer with each sip La Farigoule de Forcalquier, the thyme liqueur of the Distilleries et Domaines de Provence, is the perfect ingredient to bring the touch of aromatic freshness that I wanted thyme to be subtle with cucumber and act as a flavor enhancer. "
Photo credit: Angèle Basile
Related products

Farigoule of Forcalquier, thyme liqueur
50 cl - 40°

This liqueur, characteristic of Haute Provence, is produced with wild thyme, a rustic and rebellious plant, harvested at the beginning of springtime, a time when our whole region is scented by this "simple"perfume. This characteristic digestif is testament to time-old tradition and regional soils, thanks ti its delightful garrigue perfume!