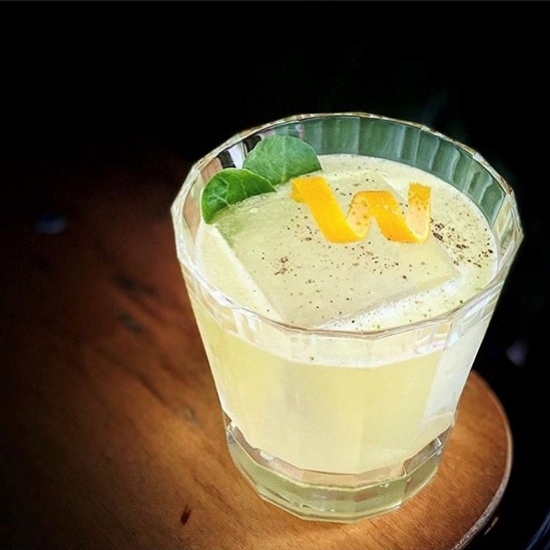 L'Expression de mon jardin - @mixologist_in_the_soul (Paris)
Ingrédients :
- 35 ml of Gin XII *
- 10 ml of Absente *
- 10 ml of Colombo Orange *
- 10 ml of freshly squeezed organic lemon juice
- 30 ml of freshly squeezed organic orange juice
- 1 turn of Kampot pepper mill
- 1/2 bar spoon of honey with orange blossom
- 1 handful of fresh lamb's lettuce
- 3 drops of natural orange blossom extract
- 1 nice expressed orange zest and a little lamb's lettuce for decoration!
Preparation:
Glass Style: Old-Fashioned / Rock. Filter through a nice pure ice cube. Shake (10s) & Double Filtration.
* Gin XII, Absente and Orange Colombo are products of Distilleries and Domaines de Provence
Photo credit: Emeric Tiercelin / @mixologist_in_The_soul
Related products

55°- 70 cl
Absinthe is  very characteristic. This is a clever blend of absinthe, artemisia, green anise and balm : delicate, sweet and slightly spiced.



Gin XII, with 12 plants and spices
70 cl - 42°
Gin XII is craft distilled from twelve plants and spices in a plate column still, creating a subtle range of aromas. Gin XII owes its name to the twelve plants and spices that go into its creation. It is characterised by fresh, minty, floral, slightly spicy notes and a beautifully lingering finish. A dry gin with a rich, authentic taste, born of a long period of research and reflection. Gin XII takes full advantage of its Haute-Provence terroir and its subtle blend of herbs such as thyme, rosemary, basil, eucalyptus, sweet almond and mint, which join forces with small juniper berries to express the aromatic intensity of a stroll through the garrigue!
75 cl - 15°

With its sweet and bitter taste, flavour and candied oranges and honey, Orange Colombo lingers on the palate and provides the ideal base for several cocktails.