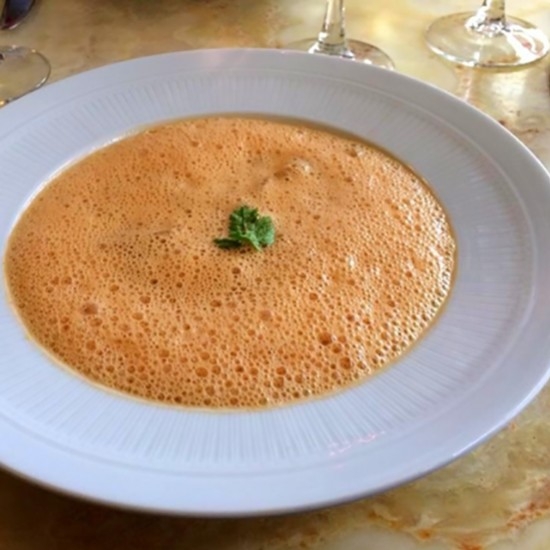 Lobster cream
Ingredients
Serves 4

•    8 nice-sized lobsters
•    100 g of butter
•    1 carrot, sliced
•    1 onion
•    1 bouquet garni (thyme, bay leaf, parsley)
•    3 cloves of garlic
•    2 dl of white wine
•    2 dl of fish stock
•    Zest of 2 oranges
•    Zest of 2 lemons
•    ½ glass of Orange Colombo
•    1 teaspoon of green peppercorns
•    3 dl of single cream
•    Salt, pepper.
Preparation
Recipe from David Van Laer du Maxence's Amuse Bouche.
Remove the shells from the raw lobster. Sweat the shells in a knob of butter with the bouquet garni. Color the shells with the white wine, the fish stock and then the cream. Add the lemon and orange zests, the Orange Colombo and green peppercorns. Cook for 40 mins, leave to infuse and the pass through a fine sieve.
Season the prepared lobsters and remove the black vein. Poach for 2 mins in the lobster cream.
Serve in a deep dish and cover with cream.
The preparation can be served cold. And the lobsters can be steamed.
 
© photo : David Van Laer du Maxence.
Related products

75 cl - 15°

With its sweet and bitter taste, flavour and candied oranges and honey, Orange Colombo lingers on the palate and provides the ideal base for several cocktails.