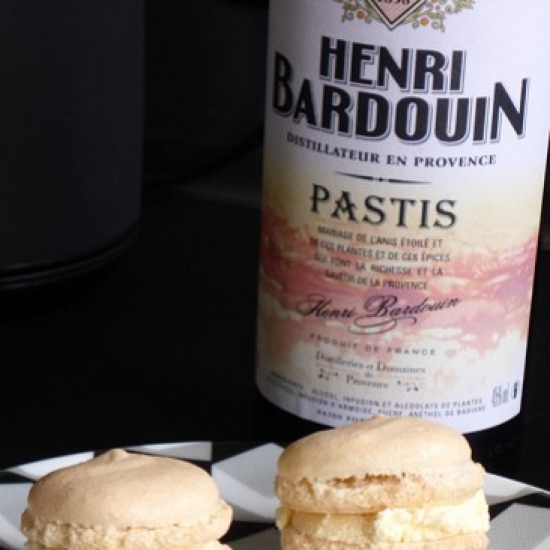 Macarons with pastis Henri Bardouin from Nancybuzz blog
Ingredients
for about 25 maccaroons
For the macaroons
• 110 grams almond powder
• 225 grams of icing sugar
• 120 grams of egg whites (about 4 medium egg whites)
• 50 grams extra fine semolina sugar if possible
• 1 teaspoon almond flavour
For fodder : butter cream / whipped cream
• 125 grams of soft butter
• 1 whole egg + 2 yolks
• 90 grams of semolina sugar
• 25 grams of water
• 25 cl of whole florette liquid cream
• 3/4 tablespoons Henri Bardouin pastis
Préparation
The macaroons
The day before, take the eggs out so they are at room temperature.
Weigh all the ingredients.
Mix the almond powder and icing sugar at high speed in a robot to obtain a very fine powder.
Sift the whole thing down.
Break the eggs and keep 120 grams of white.
Beat the whites in the snow until they become foamy, then add the sugar semolina and continue beating until they are firm.
Pour the almond powder/icing sugar mixture once over the snow whites and mix gently.
Add the almond aroma.
The dough must be smooth and supple but not liquid.
Fill a socket pocket.
Regularly poach hulls on cooking plates covered with cooking paper.
Tap the macaroons by typing the plates on the work surface.
Very important: let the macaroons crust in the air for at least one hour.
The dough should not hang on the finger.
Preheat your oven to 150°.
Bake and cook each plate for 15 minutes.
Remove from oven and let cool.
The cream
It is essential that the butter be ointment to succeed the cream. Take it out the day before or switch it to the low power microwave for a few moments.
You will still have cream but it is impossible to prepare a lesser quantity.
Whisk the soft butter to obtain an ointment.
Pour the whole egg and 2 yolks into a bowl.
In the saucepan, heat the water and sugar to small broth and pour over the eggs that you have already started whisking.
Continue beating for about 2 minutes and add the butter, whisk for a few minutes until you get a smooth cream.
Mounting the cream fleurette into whipped cream and adding it gently to the previous device.
Add according to your preference 3 or 4 tablespoons of Henri Bardouin pastis. The cream must be well scented to counterbalance the almond flavor of the macaroons.
Filming and booking it.
Montage
When the macaroons are well cooled, garnish with a teaspoon of butter/whipped cream.
You can keep them cool 24 hours in an airtight box, freeze them or… consume them immediately!!
This recipe is inspired by Sébastien Serveau's book "Easy Macaroons"
© photo : @Nancybuzz
Related products

70 cl - 45°
Pastis with a unique character: mixed from more than 65 plants and spices, it is powerful and aromatic on the palate.
Only available in France