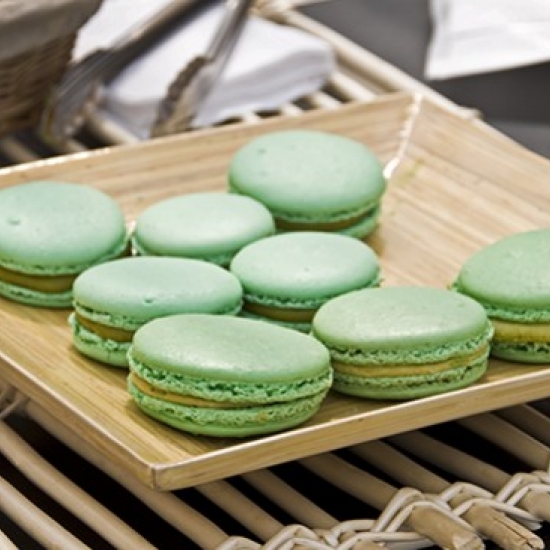 Macaroon with Absente
Ingredients
For macaroons:
Egg whites: 3
Ice sugar: 200 g
Almond powder: 125 g
Sugar powder: 30 g
Food coloring: green
For the ganache:
White chocolate pastry: 200 g
Liquid cream: 180 g
4 cl of Absente or Grande absente
Preparation
Realization of the hulls
1. Mix the almond powder with the icing sugar and sift if the mixture contains lumps.
2. Whip the whites until stiff, add a spoonful of sugar as soon as the whisk leaves marks, then put the rest of the sugar and whisking at full speed to obtain a "bird's beak" effect, say white tips as soon as you remove the whips. Then add the dye in the firm whites and mix well for a homogeneous color.
3. Gradually sprinkle the almond + icing mixture into the whites, and mix with the plastic horn or silicone spatula. The mixture should be shiny, smooth, and form a ribbon while falling down.
4. Prepare a sheet of parchment paper on a baking sheet.
5. Make small 3 cm domes in the pocket with a smooth socket or a teaspoon on the paper, at regular intervals and staggered.
The small domes will spread a little during the rest period, so it is better to start by making small before estimating their final size: they should measure about 3.5 cm in diameter after cooking
6. Leave to crust about twenty minutes at least.
The "crust" period is also used for a better lifting of the macaroons once in the oven. It's just a matter of letting the small circles of macaroons at room temperature on the plate
7. Place the macaroons in the preheated oven at 200 ° C. Leave the oven half open with a wooden spoon to block the door for about 5 minutes. Then remove the spoon and let it finish cooking at 175 ° C, about 7 minutes, more for the larger macaroons.
This technique allows the macaroons to inflate by forming the small lace collar at their base.
Realization of the ganache
8. Heat the cream and then add the white chocolate cut into small pieces. Bring to a boil. Out of the fire add the Absentee. Keep cool for about 4 hours, the time that the ganache takes and hardens.
Montage of macaroons
9. At the end of the oven, let the plates cool for a few minutes, then peel off the macaroons.
If they are sufficiently cooked, they will peel themselves off, otherwise continue cooking.
10. Garnish one shell of two of ganache (preferably with a pastry bag) and assemble the shells of macaroons in pairs.
11. Ideally, place the macaroons in the fridge overnight and take them out two hours before serving.
Photo credit: Adobe Stock - Delphotostock
Related products

55°- 70 cl
Absinthe is  very characteristic. This is a clever blend of absinthe, artemisia, green anise and balm : delicate, sweet and slightly spiced.