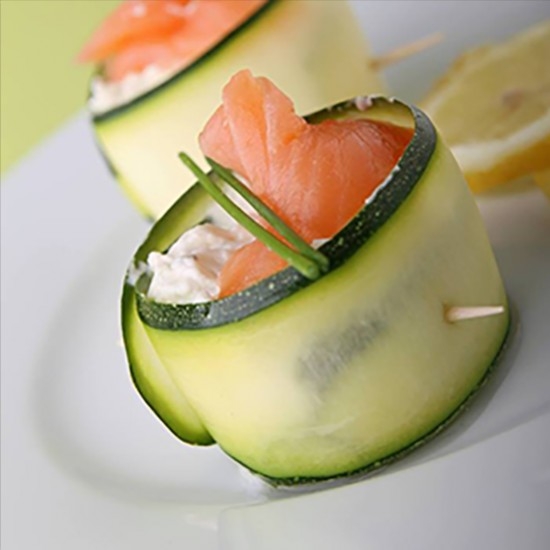 Maki zucchini-salmon-radish with its glass of RinQuinQuin
Ingredients
2 small zucchini
2 slices smoked salmon
1 black or white radish
A tablespoon of Tahin (sesame cream) to dilute with a little lemon and a drizzle of olive oil.
Preparation
Cut zucchini and radish into thin slices with a knife or mandolin.
Zest the lemon and take the juice, add it to the sesame cream and add grated ginger.
Cut strips of smoked wild salmon.
Overlay a slice of zucchini spread with sesame cream, salmon and radish.
Wrap and sew to maintain maki.
Book 30 minutes in the fridge and enjoy with a fresh RinQuinquin.
© photo :  Bambule Médias
Related products

15° - 75 cl
RinQuinQuin is a white wine-based apéritif, with peaches, leaves of peach trees picked in autumn,  sugar and  alcohol.