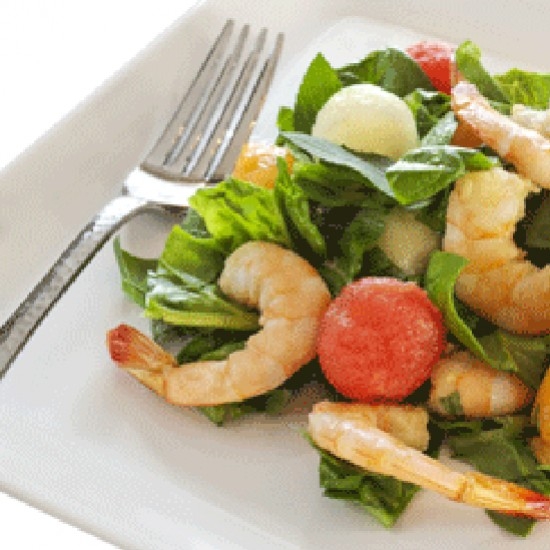 Melon and Shrimp Salad HB Pastis Flambé
Ingredients
For 4 people

•    1 Cavaillon melon
•    1 cucumber
•    400 g of precooked shrimp, shelled but with the tail
•    4 tablespoons of HB Pastis
•    6 tablespoons of lemon juice
•    a few pinches of fresh coriander
•    salt, fresh ground pepper
Preparation
Preparation: 10 mins.
Cooking time: 5 mins.
Resting time: 30 mins.
Using a melon baller cut the melon flesh into small balls.
Peel the cucumber, cut it into fine strips using a vegetable peeler. Mix the melon, cucumber, and snipped coriander.
Prepare the shrimp: brown shrimp in a non-stick skillet with the remaining lemon. When they are very hot, add HB Pastis, let the pastis heat and flambé.
Mix the cold shrimp with the melon-cucumber mixture. Keep cool.
One half hour before serving this salad, season it with 3 tablespoons of lemon juice, two tablespoons of HB Pastis, pepper and a very small amount of salt.

Eat very cold.
To finish... The shrimp is optional. The salad is perfect without them!
 
© photo : Adobe Stock - Studio D
Related products

70 cl - 45°
Pastis with a unique character: mixed from more than 65 plants and spices, it is powerful and aromatic on the palate.
Only available in France