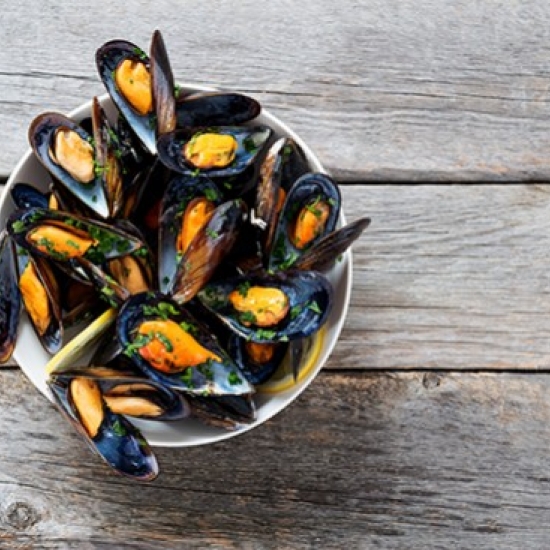 Mussels with HB Pastis No. 2
Ingredients
Serves 4

•    3 liters of mussels (approximately 2.5 kg)
•    2 tomatoes
•    1 untreated lemon
•    1 garlic clove
•    2 large shallots
•    1/2 bunch of parsley
•    2 pinches of thyme leaves
•    2 tablespoons of pastis
•    20 g of butter
•    pepper
Preparation
Preparation: 15 mins.
Cooking time: 10 mins.

Peel shallots and garlic. Mince them finely. Rinse tomatoes and dry them on absorbent paper towels. Dice them after removing the seeds. Brush lemon under hot water, then remove a long band of zest using a vegetable peeler. Toss mussels under cold water, scrape them, then remove the filament that comes out (byssus).

Pour shallots and garlic with butter into a large sauté pan. Sprinkle with thyme. Let cook on low heat 1 mins. Add mussels, lemon zest and cut parsley, add pepper.

Open mussels over high heat, mixing with a skimmer and bringing those on the bottom to the top, so that they all cook at the same time. When they are open, remove them and put them into a deep dish. Add the tomato cubes to the sauté pan. Pour in Henri Bardouin pastis. When it starts to boil again, pour cooking liquid on the mussels. Sprinkle with parsley.

Serve immediately. Serve with saffron rice.

Tip: the mussels are healthy and alive when they open when they are cooked. Therefore, remove any raw mussels that are broken or already open and those that remain closed once they are cooked.
Related products

70 cl - 45°
Pastis with a unique character: mixed from more than 65 plants and spices, it is powerful and aromatic on the palate.