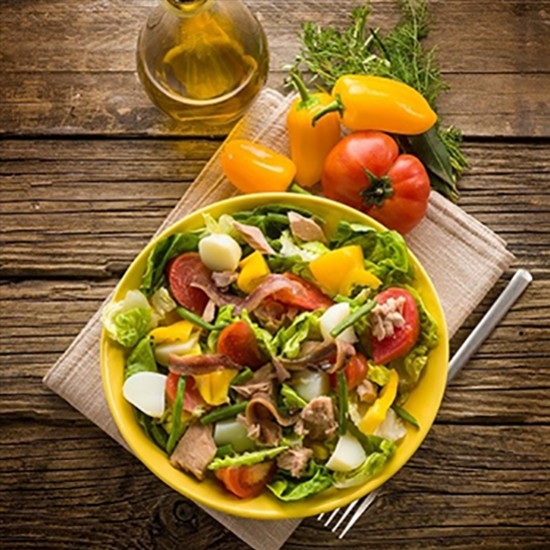 Nicoise Salad with Pastis Henri Bardouin
For 4 people
Ingredients
160 ml (2/3 cup) of Pastis Henri Bardouin
30 ml (2 tablespoons) of honey
1/3 cup (80 mL) of sunflower or canola oil
30 ml (2 tablespoons) of cider vinegar or rice
30 ml (2 tablespoons) fresh parsley, chopped
To taste, salt and black pepper of the mill
8 leaves of lettuce to choose, shredded
1 large tomato, quartered
1 yellow pepper, cut into strips
3 hard boiled eggs, quartered
1 can (170 g) (6 oz) light tuna pieces, drained
Preparation
In a saucepan, bring the pastis and honey to a boil.
Let reduce by half. Let cool.
Stir in oil, vinegar and parsley to reduce pastis.
Season and reserve.
In 4 plates, share the lettuce.
Garnish with the rest of the ingredients.
Sprinkle with vinaigrette and serve.
© Photo : 123RF - Marco Mayer
Related products

70 cl - 45°
Pastis with a unique character: mixed from more than 65 plants and spices, it is powerful and aromatic on the palate.
Only available in France