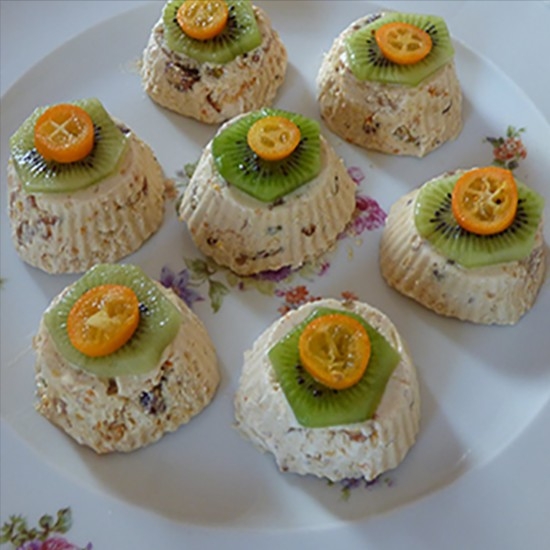 Nougat glazed with RinQuinQuin
For 8 people
Ingredients
2 egg whites,
50 gr of honey,
30 + 30 g of sugar,
10 g glucose,
250 gr of whipping cream with 35% fat content
80 gr candied orange zest,
40 g of candied ginger,
50 gr of pistachios,
gr of pecan,
5 cl of RinQuinQuin
Fruits for dressage: kiwis and kumquats
Preparation
Spread pistachios and pecans on a baking sheet and roast in the oven for about 10 minutes.
Cut the candied zest into small cubes and macerate in the RinQuinQuin
Heat 30 gr of sugar in a saucepan to make a caramel.
When the caramel turns golden, add the roasted pistachios and pecans, mix quickly to coat them with caramel.
Spread on a silpat (or a sheet of parchment paper) and separate the dried fruit.
Pour honey, sugar (30 gr) and glucose into another saucepan and bake at 121 ° C.
At the same time, whisk the egg whites into the snow by squeezing them with a spoonful of sugar.
Then pour the syrup at 121 ° C net while continuing to beat. Whisk until completely cool.
Stir in zests and caramelized dried fruits, mix.
Whip the cream in whipped cream and gently add it to the Italian meringue.
Pour into silicone molds and let in freezer for at least 3 hours.
When serving, unmould the frozen nougat.
Detail in triangle
Dressage:
A slice of kiwi and kumquat
© photo : Bambule Medias
Related products

15° - 75 cl
RinQuinQuin is a white wine-based apéritif, with peaches, leaves of peach trees picked in autumn,  sugar and  alcohol.