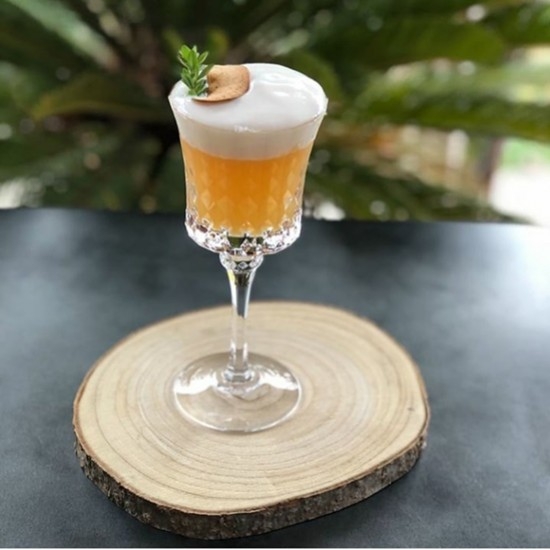 Ô verger by Axel Brault
Ingredients
4 cl of Calvados (Pays d'Auge)
2 cl of Pommeau
3 cl of Pear/Savory cordial
3 drops of natural beeswax extract
Siphon/mousse de Douce (Liqueur half pear, half Cognac)
Method:
In a shaker with ice - Strain and serve in a chilled glass - Top with the Douce mousse
Garnish:
Dried apple slice and savory sprig
Photo credit: @axbrault
Recipe for Douce cream:
Ingredients:
3 sheets of gelatin
4 oz of semi-skimmed milk
1,5 oz of water
25 g white powdered sugar
4 oz of Douce
Recipe:
Soften the gelatin leaves in a bowl of cold water.
In a saucepan, add water and sugar, then boil to obtain a simple syrup.
Add the gelatin sheets to the syrup and mix well.
Remove from heat and add milk and sweetener to the simple syrup base.
Mix everything together, strain and pour into the syphon.
Gas twice (shake well each time).
To finish, let the syphon rest for at least 1 hour in the refrigerator.
Related products

Douce, Pear and Cognac liqueur
50 cl - 30°

Natural Poire William flavouring from the southern Alps, combined with Cognac makes Douce the most exquisite of pear liqueurs.