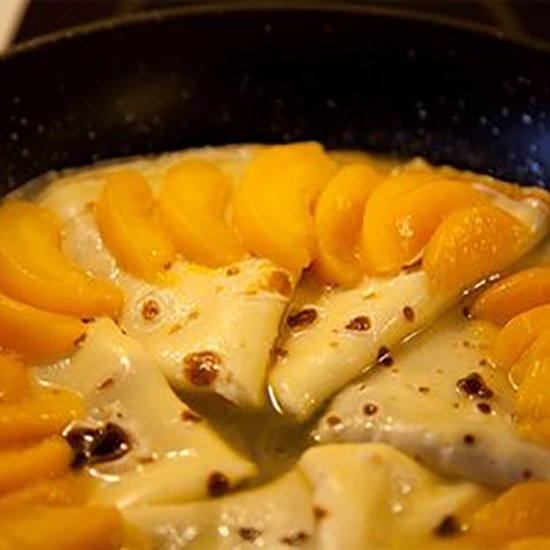 Pancakes with Rinquinquin and peach
Ingredients
For 10 pancakes
- 220 g of flour
- 1 pinch of salt
- 1 tablespoon caster sugar
- 20 cl of water
- 20 cl of milk
- 2 eggs
Syrup:
- 1 can of peaches in syrup (415 gr)
- 40 gr of powdered sugar
- 40 gr of butter
- 10 cl of RinQuinQuin
Preparation
Pancakes:
Mix the flour, salt and sugar. 
Then add the eggs, then the milk and water. 
Whip in order to obtain a homogeneous paste. Let her rest. 
Heat the pan. Oil lightly and remove the excess with paper towels. 
Cover the skillet with dough, keep the heat on medium. 
When the dough comes off, turn it over with a spatula or by blowing it up according to tradition. 
Let it cook a few seconds on the other side. Reserve on a dish. Repeat the operation ...
Syrup:
Pour the peach syrup into a saucepan. 
Add the butter, sugar and peaches cut into strips. 
Bring to a boil and cook over low heat for about 10 minutes. 
The preparation must be syrupy. Fold the pancakes in 4 and arrange them in a pan. 
Then pour the syrup over the hot pancakes. Allow to absorb about 4 min over low heat. 
Then pour the RinQuinQuin on the pancakes. Serve.
© photo : Bambule Medias
Related products

15° - 75 cl
RinQuinQuin is a white wine-based apéritif, with peaches, leaves of peach trees picked in autumn,  sugar and  alcohol.