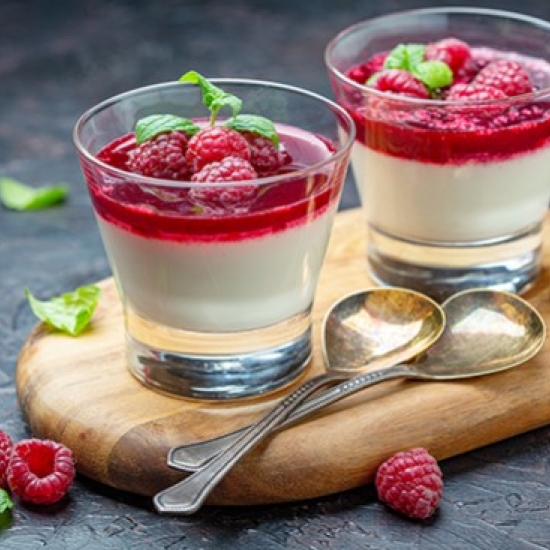 Pannacotta with Absente and raspberry coulis
For 4 people
Ingredients
For the cream:
30 cl of cream 15%
30 cl of Mascarpone
10 cl of milk
80 g of sugar
3 sheets of gelatin
2.5 cl Absente 55
For the grout:
400 gr frozen raspberries
100 gr of sugar
2 cl of water
Preparation
Preparation: 30 min
Soak the 3 sheets of gelatin in cold water. Put the cream, Mascarpone, milk and sugar in a saucepan and simmer over low heat but hot enough. Remove the pan from the heat at the beginning of boiling and add the gelatin sheets to the mixture.
Stir well and pour the mixture into cups. Cool for a few hours in the refrigerator.
Meanwhile, start grouting:
Put in a pan the sugar and the water. Add the raspberries to this syrup. Heat the mixture until boiling. Mix the mixture and pass it through a sieve to remove the seeds. Let cool.
Your gorgeous red-hot coulis is ready!
Photo credit: Adobe Stock - sriba3
Related products

55°- 70 cl
Absinthe is  very characteristic. This is a clever blend of absinthe, artemisia, green anise and balm : delicate, sweet and slightly spiced.