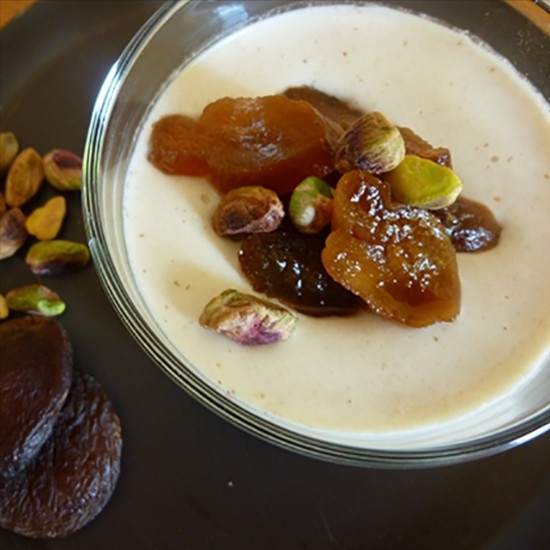 Pannacottas almonds - apricots with RinQuinQuin Inspired by Cléa cleacuisine.com
For 4 people
Ingredients
1 teaspoon of potato starch
1 teaspoon with agar-agar
200 ml of almond milk
100 ml almond liquid cream
15 g of complete almond puree
2 tbsp. orange honey from Sicily
Topping:
Dry apricots cut and marinated in 10 cl of RQQ
Roasted pistachios
Preparation
Place the starch and the agar-agar in a small bowl and mix with a little almond milk.
Pour the remaining almond milk into a saucepan and add the diluted mixture.
Bring to simmering and simmer for about 15 seconds.
Transfer to the bowl of a blender and mix with the cream, almond puree and Sicilian orange honey.
Pour into 4 cups and let cool to room temperature, without covering or filming.
Once the cups are cold, film and refrigerate for at least 6 hours.
dressage
Decorate with fresh and / or dry, grilled and crushed fruits, marinated in RinQuinQuin.
 © Photo : Bumble Medias
Related products

15° - 75 cl
RinQuinQuin is a white wine-based apéritif, with peaches, leaves of peach trees picked in autumn,  sugar and  alcohol.