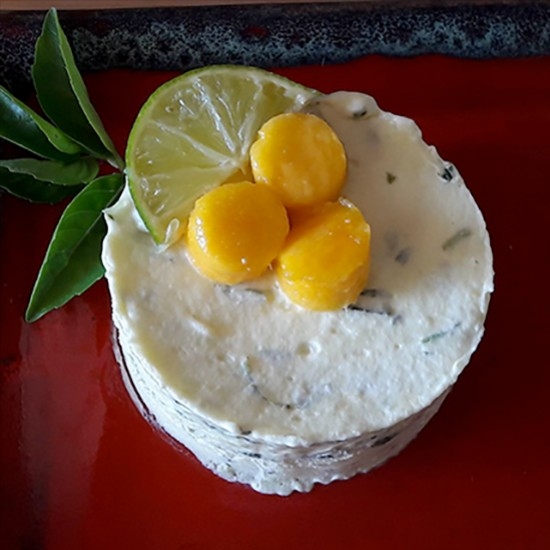 Parfait iced with lemon, basil and RinQuinQuin, inspired by Christophe Felder
For 6 persons
Ingredients
5 egg yolks,
120 g of sugar,
5 cl of RQQ,
20 g of basil leaves (fresh or frozen),
2 sheets of gelatin,
33 cl whole cream.
1 mango
Preparation
Assemble the yolks with the mixer.
Make a sugar syrup: heat 60 gr of water with the sugar, cook until 120 ° C. Pour the sugar cooked in a net over the yolks, whisk until completely chilled.
Mix basil with lime juice and RinQuinQuin. Add to the previous device.
Add the gelatin previously rehydrated and wrung and finally the whipped cream. Mix and garnish a piping bag.
Blend cylindrical molds of rhodoïd, fill with the apparatus and place in the freezer.
Peel the mango, cut small dice.
Dressage:
Arrange 3 circles of meringue on the plate of service (see note)
Unmould the cylinders, cut in the height to have several different sizes; place on each circle a different cylinder (leave about ten minutes in the air, it should not be eaten frozen). Place the diced mango and half a slice of lime.
Note:
Christophe's original recipe includes meringues; if you want to make them, here are the ingredients and the rolled out:
Ingredients (for 6 people):
80 g egg whites,
80 g caster sugar,
80 g icing sugar,
1 zest of lime (or combava is even better),
Preparation:
Make the meringues: whisk the egg whites; when the whites start to be well mounted, gradually pour the powdered sugar until you obtain a beautiful white meringue. Add the icing sugar by mixing with a spatula.
Add the zest of combava, mix, garnish a disposable pastry bag and dress on silpat or parchment paper. Spread and smooth with a spatula to give a rectangular shape.
Bake for 2 hours at 90 ° C.
Meringues can be made in advance and kept in an airtight box; if they soften, a brief passage in a sweet oven will make them crisp.
To learn more about Christophe Felder's recipes: http://amzn.to/2v7VpiK
© photo : Christophe Felder
Related products

15° - 75 cl
RinQuinQuin is a white wine-based apéritif, with peaches, leaves of peach trees picked in autumn,  sugar and  alcohol.