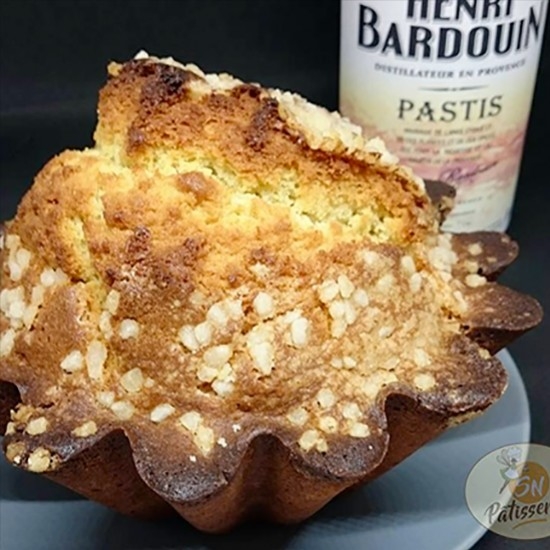 Pastis of Pyrenees in the Pastis Henri Bardouin by Sylvie Noël of the blog snpat
Ingredients and material :

• Brioche mold from 18 to 22 cms
• 250 g of flour
• 5 g of baking powder
• 1.25 g of powder anise drinks
• 163 g of butter
• 175 g of sugar
• 25 g of powder of almond
• 200 g of whole eggs
• 12.5 g of Pastis Henri Bardouin
• QS sweetens grain (otherwise called casson sugar)
Preparation:

Butter the brioche mold. Sieve the flour with the powder anise and the baking powder. In the tank of the robot equipped with the sheet, to smooth the butter, the caster sugar and the powder of almond. Add gradually whole eggs and pastis Henri Bardouin.Incorporate the powder mixture (flour, anise and baking powder). Overturn into the brioche mold (maximum height ¾ of the mold).Strew generously the top of the pastis of sugar grain.Cook in an oven in 180°C during approximately 55 minutes (according to your oven).Finish and presentation(display):At the exit of the oven turn out the Pastis of Pyrenees on a railing and let it cool. He it keeps very well packed in some paper Cellophane, in the refrigerator or in the freezer.
According to the recipe of the book "Pâtisserie, Les clef de la réussite" by Denis Herrero and Gérard Etienne (Ed. Deliceo)
©Photo : Sylvie Noël
http://www.snpatisseries.fr/
Related products

70 cl - 45°
Pastis with a unique character: mixed from more than 65 plants and spices, it is powerful and aromatic on the palate.
Only available in France