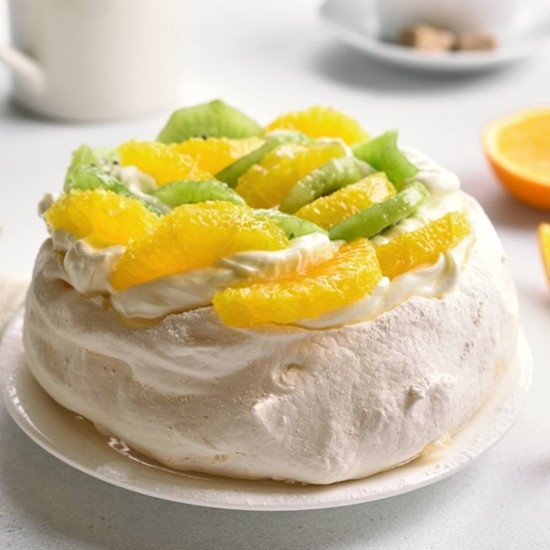 Pavlova Kiwi Orange with RinQuinQuin
Ingredients :
For 4 people
Biscuit:
• 4 egg whites
• 100 gr of semolina sugar
• 100 gr of icing sugar
Chantilly:
• 33 cl of flowery cream at 35% MG
• 15 gr of sugar
• 70 gr of Philadelphia
• 4 tablespoons of Rinquinquin
Decor:
• 2 kiwis
• 2 oranges
Preparation:
Whisk the egg whites by adding the semolina sugar 3 times, whisking constantly to meringue the whites.
Stop the whip when the meringue is firm, white and beaded, then stir in the icing sugar with a Maryse.
Garnish a socket pocket, poach 4 circles 4 to 5 cm in diameter or 1 circle 20 to 22 cm on a Silpat or a sheet of parchment paper.
Bake for 25 minutes at 150°C
The meringue must remain mellow inside.
Prepare the whipped cream: pour the very cold cream and into the mixer bowl.
Mount for a few minutes, gradually adding the sugar and then the Rinquinquin
Installation of the film:
Meringue
Chantilly
Decor:
Gently place a few slices of kiwi and orange on the whipped cream.
© Photo : Bambule Media
Related products

15° - 75 cl
RinQuinQuin is a white wine-based apéritif, with peaches, leaves of peach trees picked in autumn,  sugar and  alcohol.