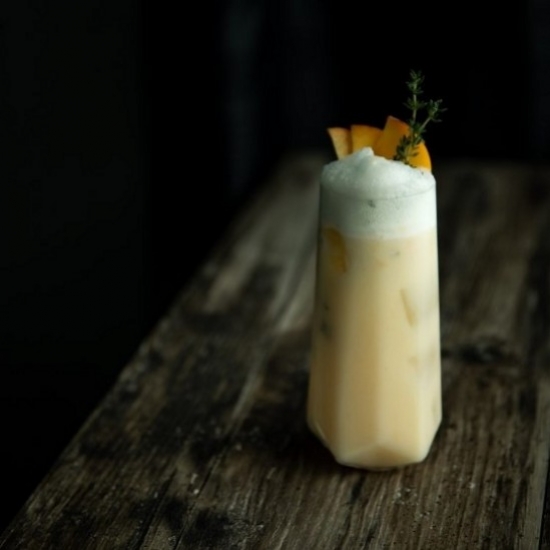 Peaches and Cream 2.0 @ Monica C ''Inspiring Home Bartenders''
Ingredients
1.25 oz London Dry Gin
¾ oz RinQuinQuin
¾ oz Thyme Simple Syrup
¼ Fresh Peach Quartered
1 oz Freshly Squeezed Lemon Juice
1 Egg White
½ oz Heavy Cream 35%
1 dash Angostura Bitters
1 oz Club Soda
Preparation
1. Grab a shaker and muddle peach to a pulp.
2. Add the Gin, RinQuinQuin, Thyme S.S., Fresh lemon, Egg White, Cream and bitters. Give this a Dry shake.
3. Fill shaker with ice, and give this another vigorous shake.
4. Strain over Collins Glass filled with ice. Let it sit for 30 seconds before topping with soda.
5. Garnish with Peach Slices and/or Fresh Thyme.
Recipe Notes
The Thyme Simple Syrup recipe is simple enough. Have 1 cup water and 1 cup granulated sugar simmer with 8 sprigs of Thyme for 5 minutes. Let it come to room temperature, and strain. It can be left in the fridge for up to 2 weeks. 
photo credit : Monica C
Related products

15° - 75 cl
RinQuinQuin is a white wine-based apéritif, with peaches, leaves of peach trees picked in autumn,  sugar and  alcohol.