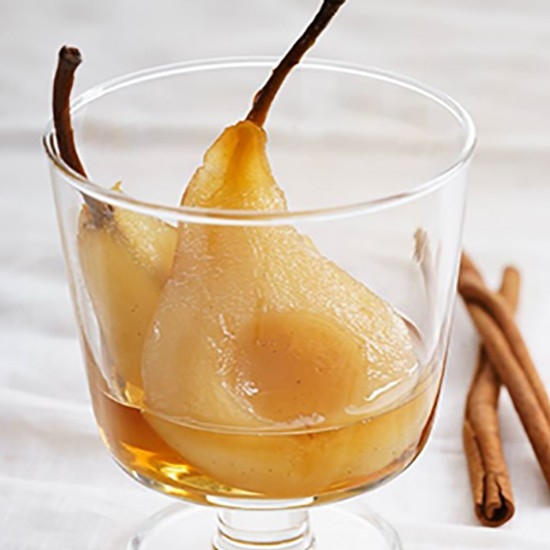 Pears poached with RinQuinQuin
For 6 persons
Ingredients
6 pears of Fise or Beurré Bosc (autumn) ripe
1 liter of water
25 cl of RinQuinQuin
60 gr of lemon honey from Sicily
150 gr of sugar
The juice of 2 lemons
4 strips of ginger peeled
3 cinnamon sticks
2 split vanilla pods
6 cloves
10 grains of black pepper from Kerala
Juice and zest of an orange cut finely
Decor: 6 badianes
Preparation
Peel and hollow out the pears with a thrift.
Wet the 6 pears with the juice of the two lemons, reserve the juice. Make the syrup by incorporating all the ingredients into a saucepan: juice of lemons and orange, zest, two split vanilla pods, honey, then sugar, spices, water and RinQuinQuin. Ensure the gradual rise of the temperature for the release of aromas.
When the syrup is hot, dip the pears in the hot syrup, cook for 15 minutes on reduced heat. Check the cooking of the pears: if they are not tender enough, let them soak until the syrup has cooled down.
Put a little syrup in a verrine and gently put the pears.
Decorate with star anise and vanilla pods
Serve cold or warm.
© photo : Bambule Medias
Related products

15° - 75 cl
RinQuinQuin is a white wine-based apéritif, with peaches, leaves of peach trees picked in autumn,  sugar and  alcohol.