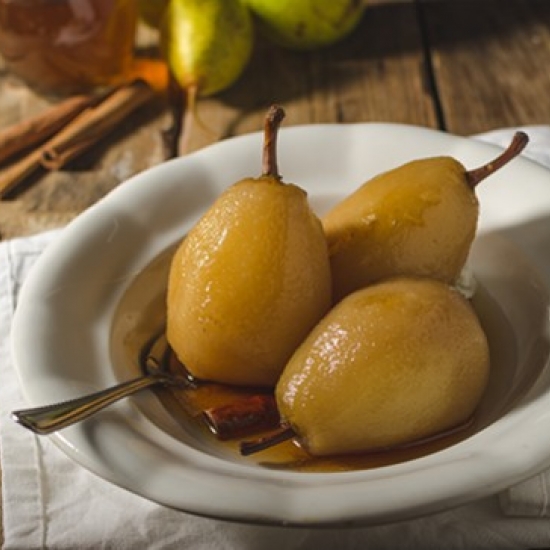 Poached pears with badiane and pastis Henri Bardouin
Ingredients
For 4 people
Preparation time: 15 minutes – Cooking time: 10 to 15 minutes – Refrigeration: 12 hours
• 4 ripe but firm pears
• 100 g of sugar powder
• 5 cl Henri Bardouin pastis
• 1 star of badiane
Preparation
Place the sugar and 50 cl of water in a saucepan and heat gently, stirring occasionally, until the sugar is completely dissolved. Bring to a boil, add Henri Bardouin pastis and badiane and boil for 4 or 5 minutes.
Meanwhile, peel the pears and cut in half. Remove the heart and seeds. Dip them in the syrup and gently spread the boiling. Reduce heat, cover and cook for 10 to 15 minutes until just tender, without crashing.
Gently remove the pears from the syrup with a skimmer, draining them well, and place them in cups. Reduce the cooking juices over high heat to give it a syrupy consistency. Lightly coat the fruit, let cool and refrigerate.
Let marinate overnight and serve very fresh.
Photo credit: Adobe Stock - Stepanek Photography
Related products
70 cl - 45°
Pastis with a unique character: mixed from more than 65 plants and spices, it is powerful and aromatic on the palate.
Only available in France