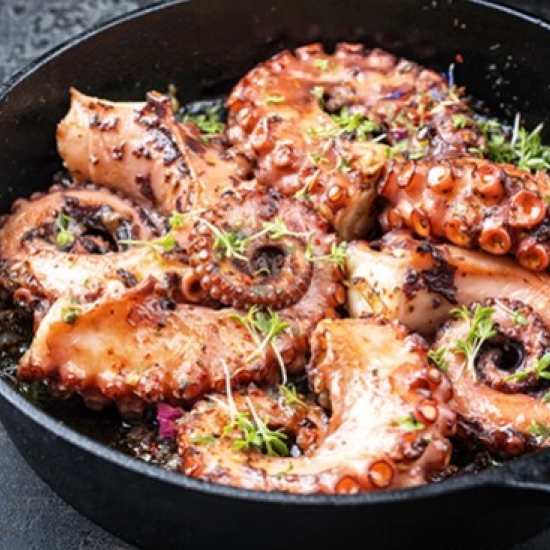 Poêlée of small squids
For 4 people
Ingredients
Preparation: 20 minutes 
Cooking: 3 in 4 minutes 
• 800 g of small squids (or of small squids) cleaned. 
• 2 cloves of garlic 
• 3 soup spoons of olive oil 
• ½ soup spoon of Pastis HB
• 2 handles of rocket (to serve) 
• Salt and pepper of the mill 
Preparation
Rinse small squids in the fresh water, then mop them several times in some absorbing paper.
Sort out, wash and press the rocket. In a small salad bowl, mix her in a spoon of olive oil, the balsamic vinegar, a little salt and pepper. Cover 4 plates. 
Make warm the rest of the olive oil in a big frying pan, with the whole cloves of garlic, in their skin. Spread small squids as far as possible, salt, pepper and make return them 3 or 4 minutes over a brisk heat, by turning them several times, until they begin to gild. Water them with the Pastis HB, burn and take away from the fire. 
Let rest 2 minutes, remove cloves of garlic, then distribute small squids and their juice of cooking on the rocket. Serve hot or tepid.
Photo credit: Adobe Stock - HLPhoto
Related products

70 cl - 45°
Pastis with a unique character: mixed from more than 65 plants and spices, it is powerful and aromatic on the palate.
Only available in France