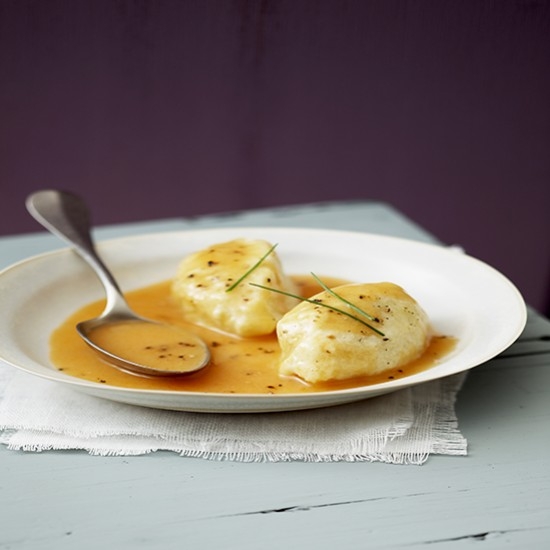 Quenelles of pike, sauce in the Pastis Henri Bardouin
For 4 people
Ingredients
• 35 min of preparation
• 25 min of cooking
QUENELLES :
• 1/3 compresses of water
• 3 tbsp of butter
• 1 c. in tea of salt
• 1 c. in tea of sugar
• Nutmeg freshly worn, to the taste
• 1/2 compresses of flour any use
• 2 eggs
• 1 lb of fine purée of pike
• 2 egg whites
• 1 cup of cream 35 % very cold
• Pepper of the mill, to the taste
SAUCE IN the PASTIS HENRI BARDOUIN :
• 1 French shallot in slices
• 1 tbsp of butter
• 2 tbsp of Pastis Henri Bardouin
• 1 tbsp of flour any use
• 1 cup of smell of fish
• 2 tbsp of cream 35 %
• Lemon juice, to the taste
• 1 tomato in dice
• Fresh chopped Herbs (chive, chervil), to the taste
• Butter of shrimps
Preparation
• Prepare a dough for cabbage. In a pan, bring to a boil the water with the butter, the salt, the sugar and the nutmeg. Take away from the fire and pay all at once(of a sudden) the flour by moving strongly. Put back on the fire and brew until the dough gets loose from walls of the pan. Let cool little then add 1 egg by mixing strongly. When it is incorporated well, to add the other egg in the same way. Let cool completely.
• Put down the fine purée of pike on an ice-cold bain-marie. Mix with the dough with cabbage and egg whites until the preparation is homogeneous. Add the cream in 3 steps and rectify the seasoning. Reserve for the cold ideally 8 hours.
• Prepare the sauce for the Pastis Henri Bardouin. In a small pan, over medium heat, get back the shallot in the butter. Deglaze and burn in the pastis then let reduce by half. Add the flour, mix and pay the smell of fish. Let simmer 5 minutes then add the cream and the lemon juice. Salt and pepper. Just before serving, adding the tomato, the herbs and a net of pastis.
• Make warm a big pan of salt water. Meanwhile, train 12 quenelles by means of two soup spoons. When the water shivers, to plunge quenelles there. Let cook approximately 15 minutes.
• Put down quenelles on a plate of service. Coat from sauce to the pastis and so wished, water with a net of butter of shrimps.
Photo credit: Adobe Stock - FOOD-pictures
Related products
70 cl - 45°
Pastis with a unique character: mixed from more than 65 plants and spices, it is powerful and aromatic on the palate.
Only available in France