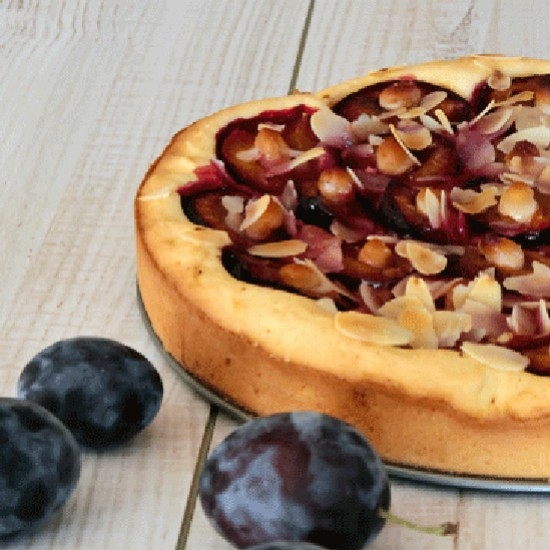 Quetsche Plum Pie Flavored with Anise
Ingredients
Serves 8

For sugar crust:
•    200 g of flour
•    125 g of butter
•    125 g of caster sugar
•    30 g of very fine semolina
•    1 egg
•    2 teaspoons of HB Pastis
•    1 packet of baking powder
•    1 pinch of salt
For the garnish:
•    1 kg of quetsche plums, seeds removed and cut into two
•    2 tablespoons of very fine semolina
•    1 tablespoon of HB pastis
•    2 packet of vanilla sugar
Preparation
Preparation: 20 min.
Cooking Time: 30 mins.

Sugar crust:
Place the flour, baking powder, semolina and butter cut into pieces in a terrine.  
Spread on sugar with your fingertips. Make a fountain and place the pinch of salt, the caster sugar, the egg and the HB Pastis in the center.
Work the pastry and make a ball. Allow the pastry to rest in the refrigerator for an hour.
Roll out the sugar crust on the floored work surface.
Line a floured pie pan with the sugar crust.
Dust the semolina on the bottom of the pie and sprinkle with HB Pastis. Place the questche plums on the pie. Dust with vanilla sugar.
Cook in the oven for about 30 minutes.
To finish... Dust the pie with sugar glaze just before serving.
Best eaten warm.
 
© photo : Adobe Stock - Irina Schmidt
Related products

70 cl - 45°
Pastis with a unique character: mixed from more than 65 plants and spices, it is powerful and aromatic on the palate.
Only available in France