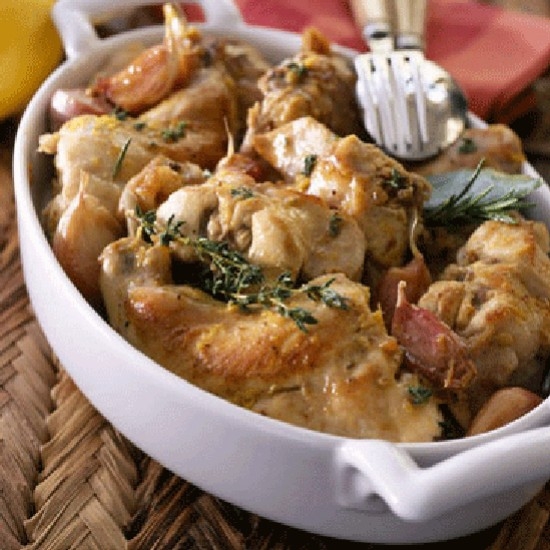 Rabbit with thyme and hazelnuts
Ingredients
Serves 4 people

8 pieces of saddle of rabbit (approximate 80 g each)
2 shallots
1 garlic clove
1 tablespoon Farigoule de Forcalquier
120 g shelled hazelnuts
1 bay leaf
2 teaspoons chicken stock
1 tablespoon olive oil
Salt, fresh ground pepper
For the garnish: 1 lettuce salad
Preparation
Heat the oil in a casserole over moderate heat; place the saddles of rabbit to brown, turning often for approximately 20 minutes. The saddles must be browned on all sides.
Remove the saddles. Replace with the peeled, minced shallots, the finely chopped and cleaned garlic clove and the thyme. Return to the moderate heat for 3 mins.
Place the rabbit pieces back into the casserole. Add hazelnuts and the bay leaf. Pour in the chicken stock. Add salt and pepper. Simmer covered for 30 mins. on low heat.
Spread the rabbit pieces and hazelnuts on a bed of salad. Sprinkle generously with the cooking jus. Serve immediately.

Tip: to enhance the taste of the hazelnuts, add a coffee bean to the pot. Remove it when serving.
© photo : Adode Stock- FOODMicro
Related products

Farigoule of Forcalquier, thyme liqueur
50 cl - 40°

This liqueur, characteristic of Haute Provence, is produced with wild thyme, a rustic and rebellious plant, harvested at the beginning of springtime, a time when our whole region is scented by this "simple"perfume. This characteristic digestif is testament to time-old tradition and regional soils, thanks ti its delightful garrigue perfume!