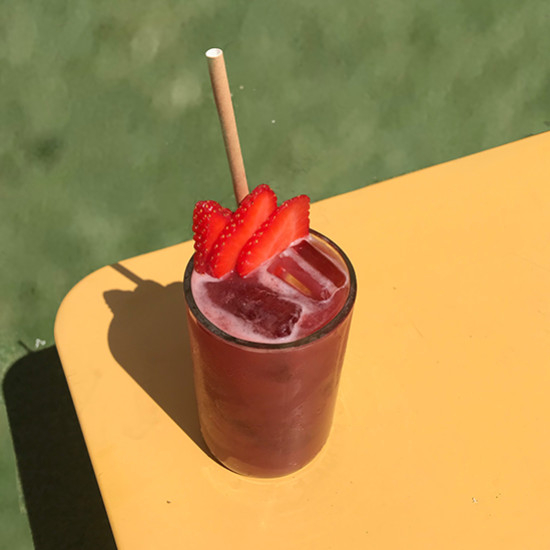 Ramène ta fraise
By Thomas, Bar Manager Le Verre à Mélange, Marseille 
Ingredients : 
60 ml strawberry juice
10 ml lemon juice
10 ml Noix de Saint Jean
20 ml Vermouth de Forcalquier
40 ml lemonade 
Technique : direct in the glass
Glass : Long drink/high ball
Method :
-Fill your glass with ¾ cup of ice
-Put all the ingredients in the glass in the order set above.
-Give it a stir with a mixing spoon to blend the ingredients together
-Add some ice to fill the glass to the top.
-Garnish with a slice of strawberry
Related products

75 cl - 18°
Vermouth de Forcalquier is an aromatized wine made with absinthe and vivacious, bitter plants and spices (lemon balm, mint, mugwort, green aniseed, cinnamon, coriander and pink peppercorns).
Vermouth de Forcalquier is a full-flavoured aperitif in a superb vintage style bottle.

75 cl - 15°

Hand crushed Dauphiné green walnuts, harvested at Saint-Jean, muscade and cinnamon lend this aperitif its spicy and fruity flavours.