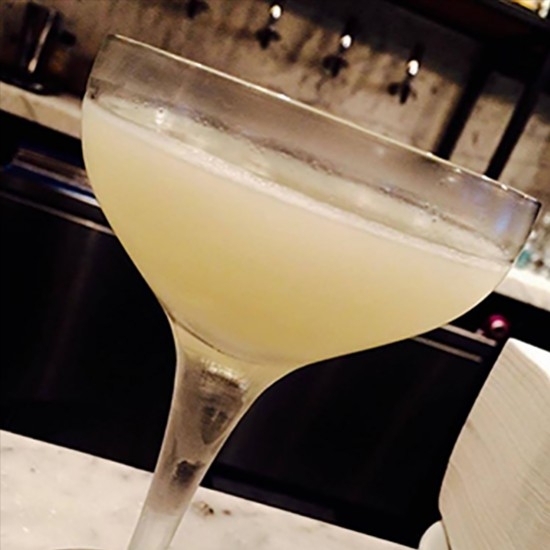 Rinquinquillah by Jake Coventry from Zelman Meats (London)
Ingredients
40ml London Dry Gin 
15ml Rinquinquin 
15ml White Grapefruit Sherbet (recipe below) 
15ml Fresh Lemon Juice
Preparation
Add all ingredients to cocktail shaker fill with ice and shake. Fine strain into a chilled coupette (cocktail glass)
Note : 
Because all drinks in a nice coupette glass look beautiful and classy already there is no added garnish.
White Grapefruit Sherbet recipe :
Peel one half of a white grapefruit and remove as much white pith as possible. Juice the white grapefruit and strain. Weigh equal parts of caster sugar to the juice by grams. Next add the white grapefruit peel and caster sugar to a blender and blitz. Because a lot of the flavour in citrus fruits are found in the skin by blitzing them you will extract those flavours into the sugar. After well blending the peel and sugar and the juice and blend again until all the sugar has dissolved. Finally strain the liquid to remove all blended peel.
© photo : Zelman Meats
Related products
15° - 75 cl
RinQuinQuin is a white wine-based apéritif, with peaches, leaves of peach trees picked in autumn,  sugar and  alcohol.