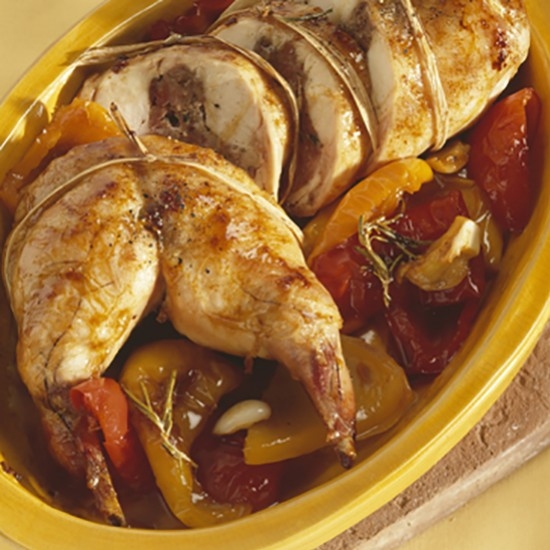 Rinquinquin Rabbit
Ingredients
Serves 6 people

•    1 rabbit, butter
•    Olive oil
•    15 cloves of unpeeled garlic
•    3 shallots
•    3 glasses of RinQuinQuin
•    6 peaches
•    Salt, pepper.
Preparation
Place the chopped rabbit in a casserole with a mixture of butter and olive oil.
When the pieces are roasted, add the chopped 15 cloves of unpeeled garlic and 3 shallots, then cook over a high heat for 2 minutes, add salt and pepper.
Add 3 glasses of RinQuinQuin and leave to simmer for 30 minutes.
Add 6 quartered peaches and simmer for another 10 minutes.
Serve with the peaches and a side dish of fresh pasta.
© photo : Adobe Stock - FOOD-Micro
Related products

15° - 75 cl
RinQuinQuin is a white wine-based apéritif, with peaches, leaves of peach trees picked in autumn,  sugar and  alcohol.