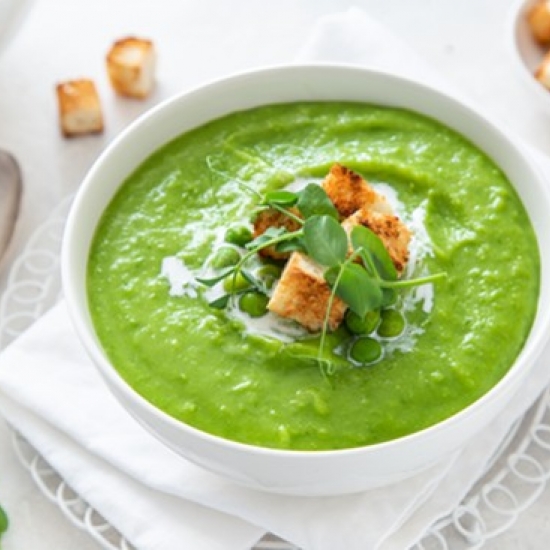 Roasted Prawn Pea and Whipped Cream
For 4 people
Ingredients
Preparation time: 20 to 25 min.
300 g peas to shell 12 gambas
1 bunch of mint
2 shallots
2 carrots
0.5 l of whipping cream + 2 cl for whipped cream
Coarse salt and fleur de sel
Olive oil and Pastis Henri Bardouin
Preparation
Shelling the peas. Cook them in boiling salted water for 3 minutes and then immerse them in ice water to stop cooking. Infuse the mint (about 20 minutes to get all the essence) into the cream and pour over the drained peas. Mix and book cool.
Dip the prawns in boiling salted water for 3 minutes, peel them and keep them cool. Make a scoop of prawns with the heads: sauté them in the olive oil flambé with pastis, then add the carrots and shallots cut into cubes. Make them come back a few minutes before getting wet.
Let simmer for 30 min, switch to Chinese and let reduce to ice (texture syrup). This will then be incorporated into the whipped cream. 
Make two strokes of prawn scallops on the edge of a deep plate in which you have to pour three quarters cream of peas. Then arrange the tails of warmed gambas in a nutty butter and add a quenelle of prawn chantilly.
Photo credit: Adobe Stock - anna_shepulova
Related products

70 cl - 45°
Pastis with a unique character: mixed from more than 65 plants and spices, it is powerful and aromatic on the palate.
Only available in France