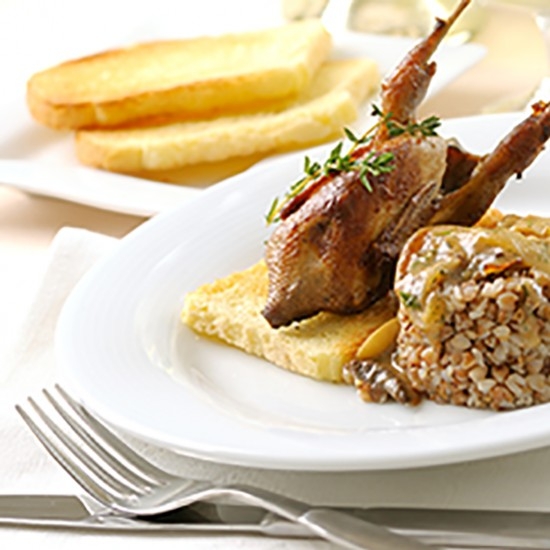 Roasted quail lacquered with honey, stuffed with dried tomatoes, olives and HB
For 4 people
Ingredients
4 farmyard quail cleaned and emptied
1 tablespoon PASTIS HENRI BARDOUIN
6 petals of oil dried tomatoes, minced
10 black olives, pitted and sliced
50 g fine sausage meat
1 teaspoon of Provence herbs
1 garlic clove trimmed and crushed
1 tablespoon of olive oil
1 tablespoon liquid honey from Provence
50 g of butter
4 tablespoons of neutral oil
Salt pepper
Preparation
Prepare the stuffing in a bowl:
Mix with fork, sausage meat with chopped dried tomatoes, olives, herbs, garlic, PASTIS HENRI BARDOUIN, salt and pepper.
Fill each quail with this preparation.
Book.
In another bowl, mix the liquid honey with the tablespoon of olive oil.
Brush each quail with this preparation.
Book.
In a cast iron casserole, melt the neutral oil with the butter.
Place each quail and brown on high heat on each side.
Lower the heat and cook the quails, turning them regularly, for 25 minutes.
Do not hesitate to pour half a glass of water during cooking, because the honey tends to thicken a little during cooking.
Serve hot with spelled or penne sprinkled with quail juice, for example, as an accompaniment.
Good tasting !
Thank you to my partner PASTIS HENRI BARDOUIN!
© photo : Magali du Blog Douceur et Gourmandise
Related products

70 cl - 45°
Pastis with a unique character: mixed from more than 65 plants and spices, it is powerful and aromatic on the palate.
Only available in France