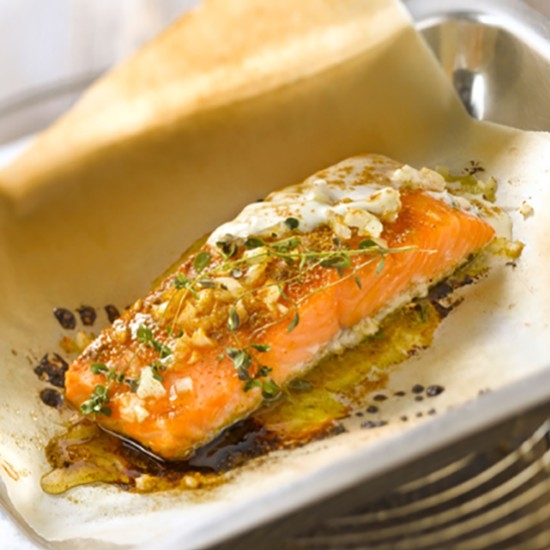 Salmon in a Pouch with Fresh Mint and Pastis
Ingredients
Serves 4

•    4 salmon steaks approximately 3 cm thick
•    1 tablespoon of olive oil
•    3 tablespoons of HB pastis
•    ¼ cup of chopped fresh mint
•    Salt and freshly ground white pepper
Preparation

Cover a cooking dish with aluminum foil. Use enough foil so that it goes beyond the edges of the dish. Pour the oil onto the foil.
Place the salmon on the dish. Sprinkle it with Pastis and put on the mint. Season with salt and pepper.
Cover the fish with aluminum foil by moving the foil starting from the edges of the platter. Leave to marinate at room temperature for 2 hours.
Preheat the oven to 200°C. Cook the fish for 20 minutes. Remove the upper layer of aluminum foil.
Place the fish on serving platters and pour the juice from the packets onto the salmon.

Tip: if you have any juice left, place it in a sauce bowl and make it available on the table.
© photo : Photo cuisine - Roulier-Turiot 
Related products

70 cl - 45°
Pastis with a unique character: mixed from more than 65 plants and spices, it is powerful and aromatic on the palate.
Only available in France