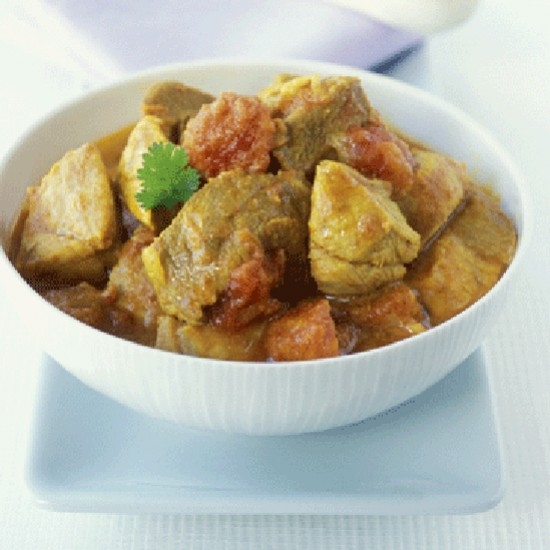 Sauteed Pork with Fennel and Lime
Ingredients
Serves 6

•    1.3 kg of spare rib removed from the bone cut into large pieces
•    3 tablespoons of olive oil
•    5 fennel bulbs
•    1 preserved lemon
For the marinade:
•    2 teaspoons of fennel seeds
•    3 garlic cloves
•    50 cl of dry white wine
•    1 tablespoon of HB pastis
•    2 onions
•    Salt, pepper
Preparation
Night before, marinade:
Peel, crush and chop the garlic. Peel the onions, cut them into two, then mince them. In a salad bowl, place the spare rib pieces and mix them with the garlic, fennel seeds, white wine, HB pastis, and salt and pepper. Cover with food wrap and place it all in a cool place for the night.

The next day, preparation of fennel:
Cut the base of the fennel. Throw away the outer leaves if they appear damaged. Cut off the bottom of the stems which you will throw away, but keep the green top. Cut each fennel bulb in 4 in the direction of the height.

Cooking the pork:
Drain the meat, dry it in paper towel. Heat the oil in a casserole. Put in the meat pieces to roast and to brown on all sides. Remove the meat and, in its place, brown the onion and garlic. When the onion starts to brown, add the meat and marinade. Bring to a boil, allow to cook uncovered until the wine smell evaporates, then cover the pot and lower the heat. Allow to simmer 30 mins., then add the preserved lemon cut into pieces and the fennel quarters. Allow to cook 30 mins. longer

Serving:
Remove everything cooking in the pot and keep it warm. Remove the grease from the cooking liquid (by remove oils floating on top with a spoon) and reduce it on high heat if it is too much. Then return everything to the pot, correct the seasoning and wait 2-3 mins. so that the dish will be very hot. Arrange it on the serving dish and sprinkle it with finely cut fennel greens.

 
© photo : Caillaut/Sucré salé
Related products

70 cl - 45°
Pastis with a unique character: mixed from more than 65 plants and spices, it is powerful and aromatic on the palate.
Only available in France