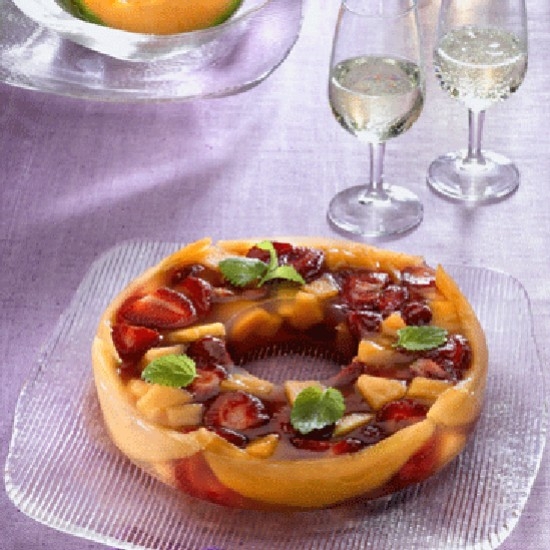 Savory melon jelly flavored with Pastis HB and mint
Ingredients
Serves 6
•    1 orange-fleshed melon (750 g)
•    1 bunch of mint
•    5 large sheets of gelatin (5 x 2g)
•    4 cl of Pastis HB
•    salt
•    pepper
•    To serve: 12 thin slices of Parma Ham
Preparation
Preparation: 15 mins.
Refrigeration: 6 hours
Soak the sheets of gelatin in a bowl of cold water to soften them.
Cut the melon in half and remove the seeds. Use a small scoop to form melon balls and place them in a salad bowl with 5 chopped mint leaves. Collect the rest of the melon flesh and blend it with 15 cl of water and the pastis. Season with salt and pepper.
Heat 10 cl of water in a small pan. Press the gelatin leaves between your hands to drain them and the melt them in the hot water, stirring well.
Pour the contents of the pot over the parsley mixture in the blender and mix for 30 seconds. Pour a small amount of the liquid into a cake tin and place in the freezer for 10 min to set.
Once set, place some whole mint leaves on the jelly, then the melon balls and some chopped mint. Pour the remainder of the jelly into the tin and leave to set for at least 6 hours in the fridge.
Just before serving, remove the jelly from the mould: running the mold under hot water for a few seconds. Place slices of the jelly onto the serving plates, add the slices of Parma ham and decorate with mint leaves.
Serve very cold.
© photo : Adobe Stock - S.E. shooting
Related products

70 cl - 45°
Pastis with a unique character: mixed from more than 65 plants and spices, it is powerful and aromatic on the palate.
Only available in France