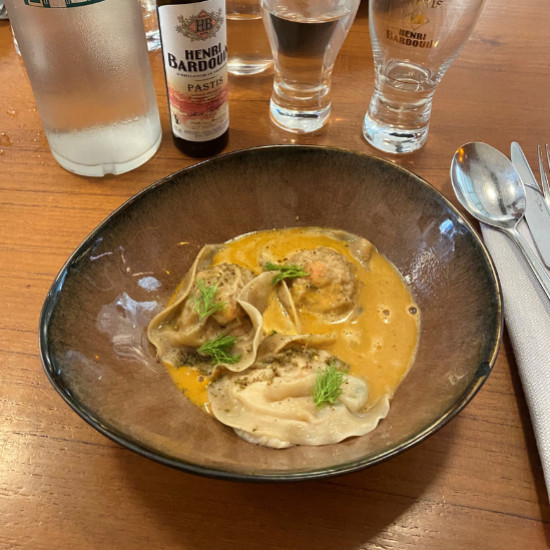 Shrimp ravioli with fennel caviar, shellfish bisque with Pastis Henri Bardouin
Serves 4:
Ingredients:
12 ravioli pasta
12 prawns
1 egg
15 cl of Pastis Henri Bardouin Grand Cru
3 fennels
3 carrots
1 lemon
5 shallots
5 cloves of garlic
Thyme
Laurel
Cumin powder
1 tablespoon of tomato paste
Olive oïl
Salt
Recipe :
Fennel caviar
Cut off the top of the fennels. Keep the stalks for the bisque and the leaves for decoration.
Cut the fennels in half, season with a pinch of salt, olive oil and a pinch of cumin powder.
Wrap them individually in aluminium foil.
Bake at 160°C for about 2 hours, until the fennels are well candied.
Blend with a dash of olive oil until smooth.
The prawns
Peel the prawns. Set aside the heads and shells.
Cut the prawns into large cubes. Set aside in a cool place.
The bisque
Peel and roughly chop the carrots, shallots and garlic cloves.
In a saucepan, fry the shrimp heads and shells with a little olive oil.
Once they are coloured, add the carrots, shallots and garlic and cook for a few minutes.
Add the tomato paste and cook for a few minutes, stirring regularly.
Flambé with Pastis Henri Bardouin Grand Cru.
Moisten with water and add the thyme and bay leaf.
Cook over a low heat for 30 to 45 minutes, then strain.
Add the lemon zest and juice and a good tablespoon of Pastis Henri Bardouin
Grand Cru.
The ravioli
Mix the cubed prawns with the fennel caviar in a bowl until you have a smooth filling.
Add a tablespoon of Pastis Henri Bardouin Grand Cru and mix again.
Spread the ravioli dough on a lightly floured work surface.
Place a teaspoon of shrimp filling in the center of each raviole.
With a small brush, spread a little beaten egg on the 4 edges of the pastry.
Fold one corner of the pastry over the other diagonally to form a triangle and pinch the raviole closed.
Finishing and serving
Cook the ravioli for 2 to 3 minutes in boiling salted water.
Place a spoonful of fennel caviar in the bottom of a soup plate.
Place 3 shrimp ravioli and a few fennel shoots on top.
Pour the hot bisque in front of the guests.
© Recipe : Chef Clément Courtemanche, restaurant Hébé, Paris
Related products

70 cl - 45°
Pastis with a unique character: mixed from more than 65 plants and spices, it is powerful and aromatic on the palate.
Only available in France