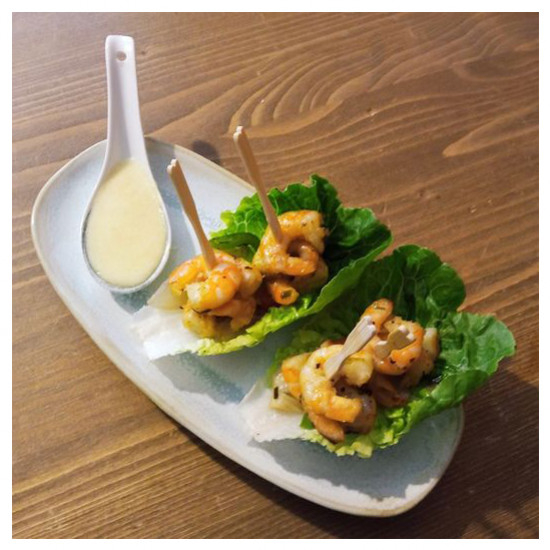 Shrimps with Cococo sauce by Eric Desbiaux- Barman at Swizzle of Oz
Preparation time : 15 min
Cooking time : 10 min
Ingredients for 4 persons :
300g shelled shrimps
1 red onion
2 purple garlic cloves
1 shallot
A few sprigs of chives
80 ml Thyme honey
1/3 yellow, 1/3 red, 1/3 green sweet pepper
2 Tbsp sesame oil
Salt, pepper
Sucrine salad leaves 
Method :
Heat the sesame oil in a wok with the garlic and the onion.
While stirring constantly, add the thyme honey and sear the shrimps for 4 to 5 minutes.
Add the sweet peppers, the shallot and the chiseled chives. Cook for  about 3 minutes. 
Season with salt and pepper. 
For the sauce, you need :
50 to 80 ml Orange Colombo wine
80 ml coconut milk
50 g Comté cheese, choose it fruity, at least 12 months old
Dose out according to your taste. Start by melting the Comté on a low heat, add the coconut milk, then slowly enhance the sauce  with the Orange Colombo wine.  et réhaussez 
Garnish : 
Sucrine leaves, cooking topping, mini wooden picks to hold and dip the shrimps in the sauce.0
@ recipe and photo : Eric Desbiaux, Barman - Swizzle of Oz
Related products

75 cl - 15°

With its sweet and bitter taste, flavour and candied oranges and honey, Orange Colombo lingers on the palate and provides the ideal base for several cocktails.