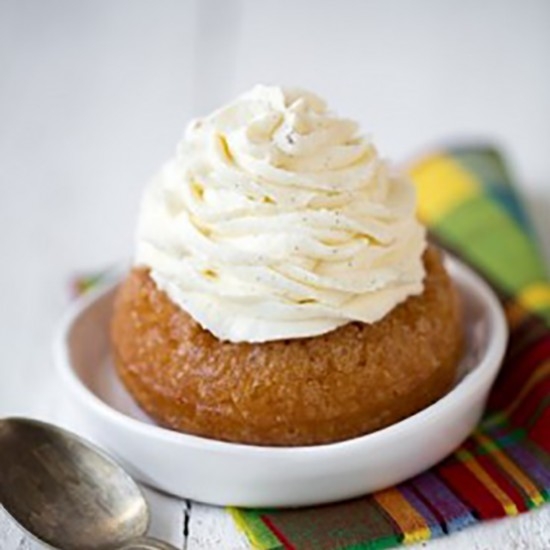 Small babas with pastis Henri Bardouin
Ingredients
For 6 people
Preparation: 30 minutes – Rest: 15 minutes + 30 minutes – Cooking: 10 to 12 minutes.
• 150 g of flour
• ½ baker's yeast bag
• 2 small eggs
• 50 g soft butter + butter for mussels
• 5 cl of milk
• 1 teaspoon sugar powder
• 1 pinch of salt
• Chantilly or/and fresh fruits to serve
For the syrup:
• 150 g of sugar powder
• 1 tablespoon Henri Bardouin
Preparation
Mix the yeast in the cooled milk. Break the eggs, beat with the salt and sugar.
Sift the fountain flour into a bowl. Pour the yeast into the hollow and gradually add the eggs, mixing as you go to form the dough. Knead for 10 to 15 minutes, until soft, elastic and does not stick. Stir in the butter in small pieces, continuing to knead. Allow to rise for 15 minutes at room temperature.
Preheat the oven to 200 °C (th. 6-7). Butter 6 small Savarin moulds.
Crush the dough by hand to chase the bubbles out of the air and spread it among the moulds. Let rise again, about 30 minutes, at room temperature, until the mussels are almost full.
Bake for 10 to 12 minutes, until a stitch in a cake comes out dry. Remove from oven, unmould and let cool.
Boil 30 cl of water with sugar and pastis Henri Bardouin, then let cool this syrup.
Place the babas on a rack over a hollow dish and spoon them with syrup. Renew the operation 2 to 3 times, collecting the syrup in the dish to soak them well. Refrigerate. Serve fresh with whipped cream or fresh fruit centre.
© Photo : A. Beauvais – F. Hamel
Related products

70 cl - 45°
Pastis with a unique character: mixed from more than 65 plants and spices, it is powerful and aromatic on the palate.
Only available in France