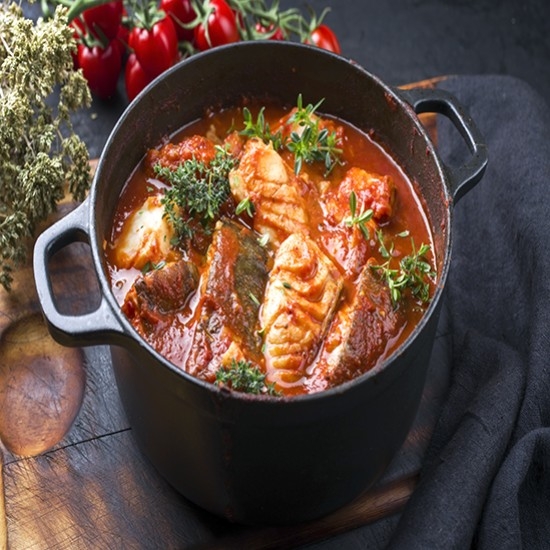 Small fish soup in three fishes
For 6 people
Ingredients
Preparation: 30 minutes - cooking the 1 hour 
• Approximately 1,2 kg of 3 white fishes in equal proportions (burbot, sea bream, place), without fish bones. 
For the soup:
• 1,5 kg of small fishes of rock or fineries and fish bones
• 10 cl of olive oil 
• 2 average tomatoes 
• 1 onion 
• 1 white portion of the leek 
• 2 branches of fennel 
• 1 clove of garlic 
• 1 bay leaf 
• 1 small piece of dried orange peel
• 1 pinch of saffron 
• 1 or 2 spoon with soup of pastis Henri Bardouin
• Salt and pepper of the mill 
• 1 bowl of rust, to serve.
Preparation
Empty all the fishes without scaling them. Rinse them in the fresh water. 
Peel and slice thinly the onion, the leek and the fennel. Cut tomatoes in pieces. Peel the clove of garlic. In a big stewpot, get back the onion, the leek and the fennel on fires soft with the olive oil, until they are soft and translucent. Add tomatoes and garlic and let simmer 10 minutes. 
Put fishes in the stewpot, water with some Pastis Henri Bardouin and make stew 10 minutes on fires soft. Pay 2 liters of water, add the laurel, the orange peel and the saffron, salt and pepper. Cook 40 minutes over a low heat.
Give some boosts of mixer-diver, then filter this soup through a fine sieve, by pressing well fishes with the back of a spoon. Put back it in the stewpot. 
Plunge white fishes into the broth, bring to very small shivers and cook 8 in 10 minutes according to the thickness of the pieces. 
Take out the pieces of fish with a skimmer, put them in a very hot hollow dish with a part of the broth, and serve the rest in soup tureen. Accompany with a bowl of rust.
Crédit photo: Adobe Stock - HLPhoto
Related products

70 cl - 45°
Pastis with a unique character: mixed from more than 65 plants and spices, it is powerful and aromatic on the palate.
Only available in France