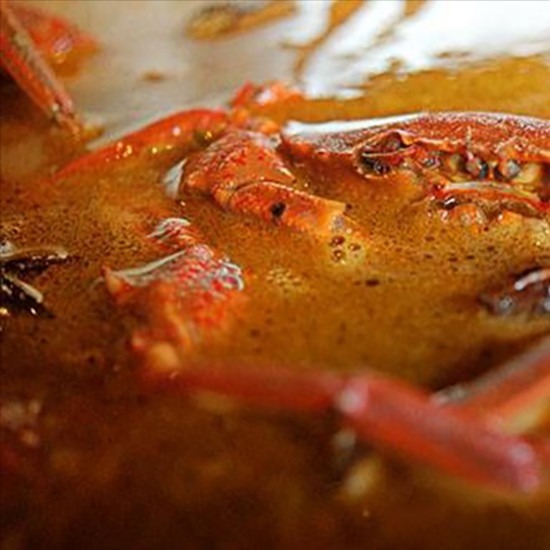 Soup of velvet swimming crabs of the pastis Henri Bardouin - by Francis in Brive
For 4 people
Ingredients
• 1 kg 5 of alive velvet swimming crabs(currycombs)
• 5 cl of pastis Henry Bardouin
• 3 cl in s of crushed tomato
• 25 cl of white wine
• 2 l of vegetable broth
• Salt, pepper of the mill, the Espelette chili
• Olive oil
Preparation
Crush boorishly velvet swimming crabs. Warm the olive oil in a big hen in cast iron. Make it color crabs then singe with the pastis and add the crushed tomato. Cast anchor with the white wine and let reduce by half. Pay the vegetable broth and let cook approximately 30 mn. Mix and pass in the Chinese. Season: salt (moderately crabs are it already), peppers of the mill and the Espelette chili.
Serve with croutons and vegetables cooked in the wok.
© Photo : chezfrancis.fr
Related products

70 cl - 45°
Pastis with a unique character: mixed from more than 65 plants and spices, it is powerful and aromatic on the palate.
Only available in France

55°- 70 cl
Absinthe is  very characteristic. This is a clever blend of absinthe, artemisia, green anise and balm : delicate, sweet and slightly spiced.