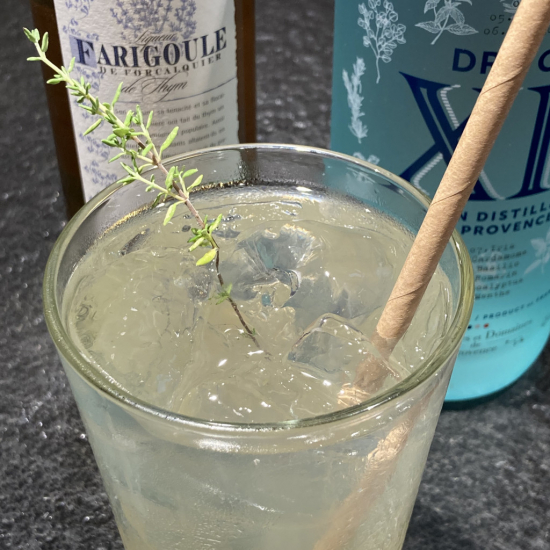 Sour Provençal
by Thomas, Bar Manager Le Verre à Mélange, Marseille
Ingredients :
20ml Syrup
30ml fresh Lime juice
30ml Gin XII
30ml Farigoule
60ml Sparkling water
Technique : Shaker
Glass : Long drink 
Method :
Fill your shaker with ice. 
Put all the ingredients in, except the sparkling water. 
Close, shake, then pour in a tall glass with ice. 
Top up with some sparkling water.
Finally garnish with a twig of thyme and enjoy ! 
Related products
Farigoule of Forcalquier, thyme liqueur
50 cl - 40°

This liqueur, characteristic of Haute Provence, is produced with wild thyme, a rustic and rebellious plant, harvested at the beginning of springtime, a time when our whole region is scented by this "simple"perfume. This characteristic digestif is testament to time-old tradition and regional soils, thanks ti its delightful garrigue perfume!
Gin XII, with 12 plants and spices
70 cl - 42°
Gin XII is craft distilled from twelve plants and spices in a plate column still, creating a subtle range of aromas. Gin XII owes its name to the twelve plants and spices that go into its creation. It is characterised by fresh, minty, floral, slightly spicy notes and a beautifully lingering finish. A dry gin with a rich, authentic taste, born of a long period of research and reflection. Gin XII takes full advantage of its Haute-Provence terroir and its subtle blend of herbs such as thyme, rosemary, basil, eucalyptus, sweet almond and mint, which join forces with small juniper berries to express the aromatic intensity of a stroll through the garrigue!