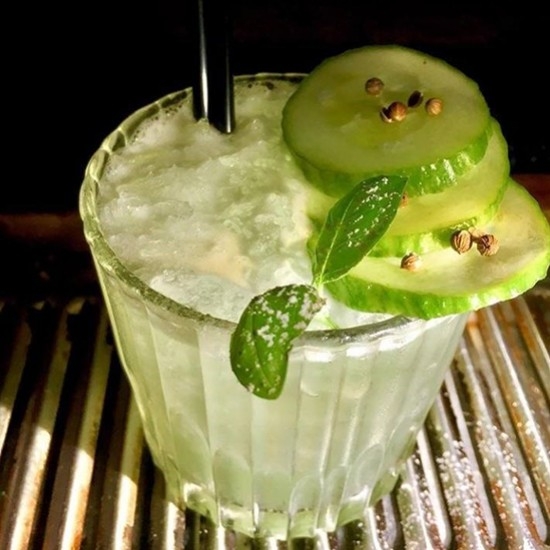 Super Green @ Old Child, bartender in Cartel Bar (Aix-en-Provence)
Ingredient :
• 30 ml of Vodka Melon
• 20 ml of fresh lime juice
• 10 ml of aloe vera juice
• 15 ml of Vermouth de Forcalquier
• 15 ml of Liqueur d'Amandine
• 5 ml of basil syrup
• 4 slices of cucumber
• 1 teaspoon of ground cilantro
Preparation : 
Mix in the shaker.
Strain directly through a glass like "Rocks" or "Old Fashioned", on crushed ice.
For decoration, 3 slices of cucumber, 1 sheet of fresh basil, some cilantro seeds and icing sugar.
Verbatim Old Child:
"The dosage can vary depending on the taste of each one (sweet, acidity, bitterness, dry), the crushed ice brings a refreshing side and the vermouth the bitterness touch. Amandine liqueur amplifies the plant side by recalling Provence with basil syrup."
Photo credit: Cartel Bar
Related products

75 cl - 18°
Vermouth de Forcalquier is an aromatized wine made with absinthe and vivacious, bitter plants and spices (lemon balm, mint, mugwort, green aniseed, cinnamon, coriander and pink peppercorns).
Vermouth de Forcalquier is a full-flavoured aperitif in a superb vintage style bottle.