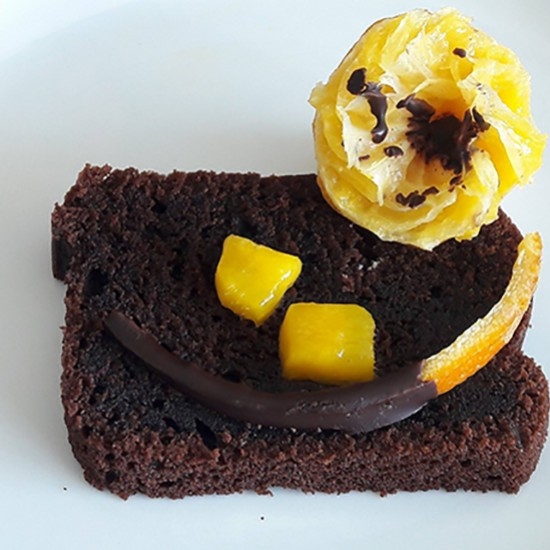 Suzy cake revisited at RinQuinQuin (inspiration: Suzy Palatin and Pierre Hermé)
Ingredients
250 gr of dark chocolate (Valrhona Manjari 64% cocoa)
250 gr of sweet butter
200 gr of sugar
4 eggs
70 gr of flour T55
5 cl of RinQuinQuin
1 mango
Some slices of candied orange
Preparation
Preheat the oven to 180 ° C
Cut some mango cubes and let them macerate in the RinQuinQuin
Melt the chocolate in pieces with the butter.
Mix well and homogenize
Whisk the sugar and eggs until the mixture whitens.
Add the melted butter / chocolate mixture to the eggs, then the flour with a spatula.
Pour into a mold (cake or square 20 cm) lined with parchment paper.
Bake for 30 minutes
Cool on a baking rack
Dressage:
Cut cake slices or 5 x 5 cm squares
Place the candied oranges and mango soaked with RinQuinQuin
The candied orange "flower" was made with the pulp and a few drops of tempered chocolate.
Taste at room temperature with a RinQuinQuin without ice cube
© photo : Bambule Medias
Related products

15° - 75 cl
RinQuinQuin is a white wine-based apéritif from the Lubéron, with the peaches of the valley of Durance, with leaves of peach trees picked in autumn, with sugar of cane and with alcohol.