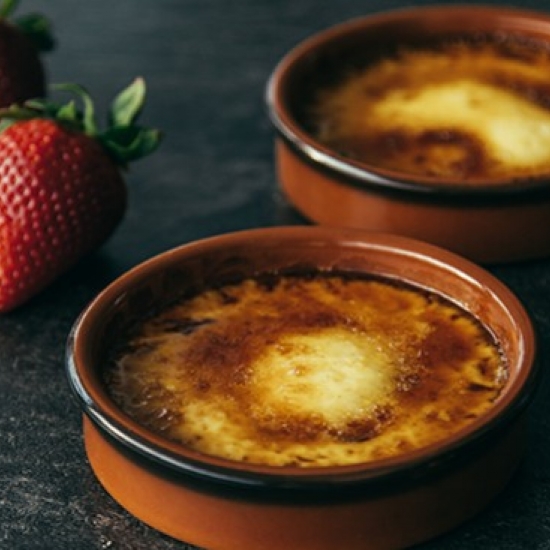 Tartar of strawberry Farigoule and vanilla crème brûlée
Ingredients
For the strawberries Tartar :
500 g strawberries of Plougastel
Farigoule de Forcalquier
Sugar
For the crème brûlée :
350 g double cream
3 eggs yolks
40 g sugar
2 g gelatin
Vanilla
Preparation 
1.
Dice the strawberries. Perfume them with some Farigoule de Forcalquier and if necessary, add some sugar.
2.
Boil the double cream. Whisk the sugar and yolks. Then mix these two elements together and bake in the oven at 90° Celsius.
3.
Add the gelatin and the vanilla. Set in 6 cms wide forms. Put aside in a cool place ti lit is stime to serve.
Bon appétit !
Photo credit : Adobe Stock - Samar
Related products

Farigoule of Forcalquier, thyme liqueur
50 cl - 40°

This liqueur, characteristic of Haute Provence, is produced with wild thyme, a rustic and rebellious plant, harvested at the beginning of springtime, a time when our whole region is scented by this "simple"perfume. This characteristic digestif is testament to time-old tradition and regional soils, thanks ti its delightful garrigue perfume!